Anyone who has watched Darrelle Revis since his return to New York knows that the sequel to Revis Island hasn't been anywhere near as good as the original. The Jets cornerback admits that he is a shell of the player that he once was, but he also says that he's not considering retirement, as Kimberley A. Martin of Newsday writes.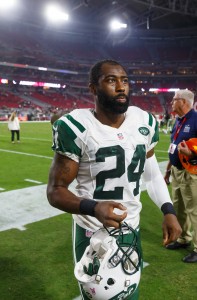 [RELATED: Rival GMs Doubt Jets Would Get Much For Brandon Marshall]
"My body's breaking down," Revis said. "Yeah, I am. I mean, not in a bad way. I can still play…It's just, I'm breaking down. I'm 31. How many corners are 31 right now in the league? The league's getting younger. I know [Vikings cornerback Terence] Newman's still playing [at 38], which is impressive. But I don't know how he's doing it."
Revis went on to say, "I'm not thinking about retirement at this moment." That doesn't come as a huge surprise given the salary that Revis is pulling in. Revis has the second highest average annual value in the league at $14MM+ per season with only Josh Norman ahead of him. He's paid more per season than Patrick Peterson, Richard Sherman, Trumaine Johnson, Joe Haden, Janoris Jenkins, Darius Slay, and every other big name cornerback out there.
Meanwhile, his performance has slipped to the point where he is actually among the worst corners with regular playing time in the NFL. Pro Football Focus has Revis ranked 83rd out of 116 qualified cornerbacks with poor scores in every major category. In 2014, the year before he returned to the Jets, PFF ranked Revis as the fourth-best corner in the league behind only Chris Harris Jr., Vontae Davis, and Sherman.
Photo courtesy of USA Today Sports Images.
Follow @PFRumors