Broncos quarterback Trevor Siemian has an AC joint sprain in his non-throwing shoulder, a source with knowledge of the situation tells Mike Florio of Pro Football Talk. An MRI today should reveal more about the injury. Right now, the belief is that Siemian could miss a game or two as he recovers, but nothing is certain.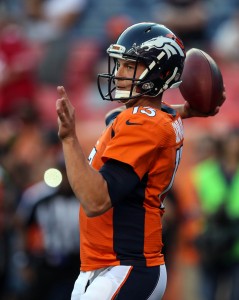 [RELATED: Denver Broncos Depth Chart]
In an interview on SiriusXM NFL Radio, head coach Gary Kubiak said that the team will play the situation by ear. "It's going to be a day-to-day thing," Kubiak said. "He's very sore (Monday) and, obviously, it's not going to affect his ability to throw the ball. But what happens, all the mechanics of your body and the movement, the torque, that's what he's going to have to work through.
So we'll take it day-by-day and keep repping them all like we always do, but hopefully Trevor will be able to answer the bell this Sunday. He's very capable of playing without practice time. He's a very bright young man, so we'll just take it day-to-day."
Siemian, 23, has performed better than many expected in his first action as a starter, completing two-thirds of his passes for more than 800 yards, six touchdowns, and three interceptions while helping the Broncos to an undefeated start. If Denver determines Siemian can play against the Falcons on Sunday while protecting his shoulder, he will be the starter, tweets Troy Renck of Denver7. In other words, there won't be a quarterback controversy involving Siemian and first-round pick Paxton Lynch.
Photo courtesy of USA Today Sports Images.
Follow @PFRumors