Ezekiel Elliott's ex-girlfriend is cooperating with the league's investigation into the domestic abuse allegations against the player, a source tells Mike Florio of PFT. If the league finds that there is merit to the accusations, her testimony could have a major impact on the Cowboys tailback.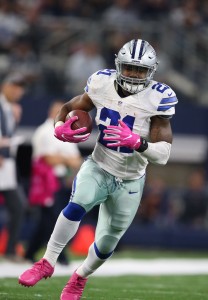 The aforementioned woman has claimed that five separate incidents of domestic violence transpired. Elliott, meanwhile, has maintained his innocence. In September, the Columbus, Ohio district attorney's office opted not to pursue charges against the Dallas rookie.
Heading into tonight's game, Elliott has rushed for 703 yards and five touchdowns off of 137 carries. He also has eleven catches for 98 yards. It would certainly sting if the Cowboys were to lose Elliott for any period of time this season.
Under the league's old personal conduct policy, Elliott might have been in the clear after the Columbus DA passed on charges. Now, in the post-Ray Rice era, the league is taking DV allegations much more seriously. It's also fair to say that the league is being extra cautious in the wake of the Josh Brown controversy which has dominated headlines for weeks.
Photo courtesy of USA Today Sports Images.
Follow @PFRumors