Earlier this year, Giants kicker Josh Brown was the subject of controversy when information emerged about the domestic violence accusations. Unlike other players who have been punished in recent years over DV charges, Brown appeared to get a slap on the wrist in the form of a one-game suspension. Now, after yesterday's revelations, many are calling upon the league office to revaluate Brown's case and give him a harsher punishment. Moments ago, the NFL released a statement on the matter and it sounds like Brown could be in for a lengthier suspension if the allegations hold up.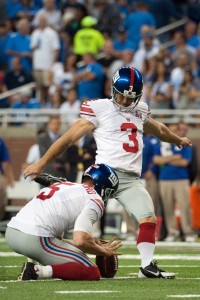 NFL investigators made repeated attempts-both orally and in writing-to obtain any and all evidence and relevant information in this case from the King County Sheriff's Office. Each of those requests was denied and the Sheriff's Office declined to provide any of the requested information, which ultimately limited our ability to fully investigate this matter. We concluded our own investigation, more than a year after the initial incident, based on the facts and evidence available to us at the time and after making exhaustive attempts to obtain information in a timely fashion. It is unfortunate that we did not have the benefit or knowledge of these materials at the time.

In light of the release of these documents yesterday, we will thoroughly review the additional information and determine next steps in the context of the NFL Personal Conduct Policy. We will not be making any comments on potential discipline until that time.
If Brown does receive additional discipline from the league, it raises an interesting quandary for the Giants. The G-Men are facing the Rams in London, England on Sunday and they'd have to get a kicker on a plane post haste if Brown needs to be replaced. As Ian Rapoport of NFL.com notes (on Twitter), Randy Bullock has an up-to-date passport. Bullock kicked for the Giants in Week 1 while Brown was suspended.
Photo courtesy of USA Today Sports Images.
Follow @PFRumors