Despite a 1-4 start to the season and an ugly performance on Sunday, the Dolphins aren't planning on shaking up their offense. Following Miami's loss to the Titans today, coach Adam Gase was emphatic that Ryan Tannehill would remain the team's starting quarterback.
"No. He's not coming out," Gase said (via Armando Salguero of the Miami Herald). "You can ask me 100 times, he's going to be in there the rest of the season."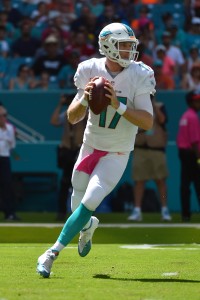 The fifth-year starter has had a rough start to the season, and those struggles continued against Tennessee. Tannehill completed 12 of his 18 pass attempts for 191 yards and a pair of interceptions. Through five games, the 28-year-old has tossed six touchdowns and seven interceptions, and his 83.6 quarterback rating is the worst since his sophomore campaign. Of course, there's plenty of reason to believe in Tannehill, as he threw 51 touchdowns between 2014 and 2015 (against only 24 picks).
For what it's worth, Tannehill certainly recognizes his struggles, and he appreciates his coach's long leash.
"I know coach has confidence in me — I have confidence in myself — and I think the guys on offense have confidence in me," Tannehill said. "We're going to go out and play. I'm going to push myself in practice, do everything I can do to get better and expect to play better."
Miami fans are certainly familiar with the alternatives, as Salguero notes that chants of "we want Moore" were echoing through Hard Rock Stadium today. Veteran Matt Moore is the team's only other quarterback, but the 32-year-old hasn't started a game since 2011. Over the past four seasons, Moore has made six appearances with Miami, converting 53-percent of his passes for 219 yards, one touchdown, and two interceptions.
Mike Florio of ProFootballTalk.com points out that Gase was hired with the understanding that he could "bring in his own quarterback" after 2016. There's a possibility that that could still be the case following this season. As Florio notes, if Tannehill remains on the Dolphins roster through the fifth day of the next league year, $14.47MM of his salary will become fully guaranteed. The team could decide to cut or trade the signal-caller, freeing them from his $17.97MM 2017 salary.
Follow @PFRumors