Ordinarily, if a team lost their starting quarterback and star running back, they'd probably throw in the towel. Not general manager Rick Spielman. The executive was aggressive following the season-ending injury to Teddy Bridgewater, sacrificing multiple draft assets to acquire Sam Bradford.
While the deal wasn't universally embraced, it's looked good through the first month of the season. The Vikings are currently 4-0, and Bradford has tossed four touchdowns and zero interceptions.
Spielman recently spoke about the Bradford trade with Brian Murphy of TwinCities.com. The whole article is worth checking out, but we compiled some of the notable quotes below: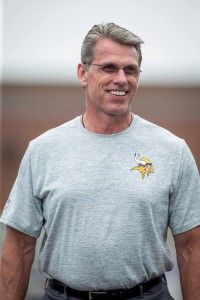 On whether he's willing to declare the Bradford trade "a win" for the Vikings:
"We've been happy with the progress Sam's made and how he's helped the football team, for sure. Hopefully we'll continue to do what we're doing and winning games. But there's no gratification yet until the end of the season."
On whether the Vikings would have made a similar trade in 2015 or 2014:
"I don't know if you're in the first year with a new coach, you'd go through with it. Where we're at, the players we have right now, by doing that, it gave us the best opportunity to hopefully have a successful season."
Would the team sacrifice more future assets to fill a glaring hole?
"That's a unique position and a unique opportunity.
"You have to keep your eye on what your roster's going to potentially look like next year, and contracts that you have coming up and guys you may have to potentially replace. We're still going to always build through the draft. You can't do that without having the draft picks.
"As we deal with injuries — and we've dealt with a lot of injuries — it goes to the testament of this coaching staff, the depth that we have behind these guys. Guys that maybe aren't well known are stepping in and playing well for us at this point."
Follow @PFRumors