The Chiefs are proponents of quarterback Alex Smith's mistake-free style, but they're skeptical of his ability to help lead them to a championship, according to Jason Cole of Bleacher Report. Therefore, general manager John Dorsey & Co. will use the rest of the campaign to evaluate Smith and could then make a "major change" under center in the offseason, reports Cole.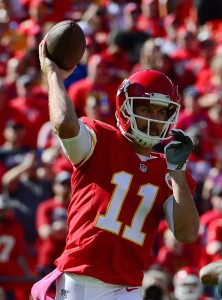 At 6-2, the Chiefs are on track to make their third playoff trip in four years under Smith, whom they acquired from the 49ers before the 2013 season. During his four seasons in Kansas City, Smith has completed 64 percent of his 1,675 passes with 7.2 yards per attempt, 69 touchdowns and 22 interceptions. The 2005 No. 1 overall pick has posed a threat as a rusher, too, having accounted for 1,214 ground yards and five scores on 5.3 yards per carry. Smith has run just 19 times for 31 yards this year, however, and he missed the Chiefs' 19-14 win over the Jaguars last Sunday with a head injury. Nevertheless, the 32-year-old has been durable as a Chief, having sat out just three regular-season games out of 56. In the 53 contests Smith has played, the Chiefs have gone a terrific 35-18.
While Kansas City has been victorious in only one of three playoff games with Smith at the helm, it's nonetheless difficult to envision the organization cutting ties with him after the season. Releasing Smith would open up $9.7MM in cap space, but it would also leave $7.2MM in dead money. More importantly, the Chiefs would have a tough time finding a capable replacement. Backup Nick Foles is signed through next season, and he has fared well in Smith's place this year, but he previously flamed out in both Philadelphia and St. Louis. The Chiefs also won't have a high first-round pick with which to draft a ready-made successor to Smith, and – with the possible exception of Kirk Cousins – there won't be anyone in Smith's class available in free agency.
All things considered, it seems KC would be wise to give Smith at least another year. The team could move on from Smith prior to 2018, the final year of the extension he signed in 2014, and save $17MM in spending space against $3.6MM in dead cap.
Photo courtesy of USA Today Sports Images.
Follow @PFRumors