We're halfway through the 2016 regular season, so let's turn our attention to the offseason for a moment and take a look at the first installment of our 2017 NFL Free Agent Power Rankings. This list is comprised only of upcoming unrestricted free agents, and is ranked by projected guaranteed money. For more, check out our master list of all 2017 free agents.
1. Kirk Cousins, QB: Cousins isn't the best overall player on this list, but because of the nature of the quarterback position, he should easily secure the most guaranteed money on the open market next spring. While Cousins started the season slow as the Redskins limped to an 0-2 record, he's rebounded over the past six games, completing two-thirds of his pass attempts for 11 touchdowns and four interceptions. On the season, Cousins ranks eighth in yards per attempt, and — if you prefer advanced metrics — seventh in DYAR and ninth in DVOA, per Football Outsiders. Given that his numbers are nearly in line with his 2015 statistics, Washington might very well franchise tag him again, albeit at a cost of more than $23MM. Alternatively, Cousins should target in excess of $40MM guaranteed in free agency.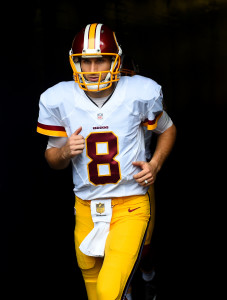 2. Chandler Jones, LB/DE: Days after acquiring Jones in exchange for a second-round pick in March, Cardinals head coach Bruce Arians expressed confidence that his club would be able to re-sign its new edge rusher for 2017 and beyond. "When he hits free agency, we'll have the dollars to make sure he stays," said Arians. With more than $37MM in projected 2017 cap space, Arizona should be able to keep Jones, and they've already begun discussing an extension. Jones, 26, started out the season hot with a sack in each of the first four games, and while he's cooled in terms of quarterback takedowns, he still ranks as Pro Football Focus' No. 3 edge defender. Olivier Vernon's five-year, $85MM deal ($52MM guaranteed) should be Jones' target.
3. Alshon Jeffery, WR: Like Cousins, Jeffery is playing out the 2016 campaign on a one-year franchise tag, earning a salary of more than $14.5MM. While dealing with subpar quarterback play in Chicago, Jeffery is still posting a solid season, as his 16.2 yards per catch not only ranks 13th in the NFL, but is the best figure of Jeffery's career. As usual, the 26-year-old Jeffery has been dinged up this season, but he's managed to avoid missing a single game. Back in June, Bears general manager Ryan Pace said he was optimistic the club could extend Jeffery after the season, but given that Jeffery's only other positional competition on the free agent market will be a converted quarterback (Terrelle Pryor) and a receiver who has face-planted in 2016 (Michael Floyd), he should easily top $14MM per annum.
4. Kawann Short, DT: With only two sacks through seven games, Short probably isn't going to match his 2015 total of 11 quarterback takedowns, but he's still been a highly effective presence on the interior of Carolina's defensive line. The Panthers' front four ranks in the top ten in both run and pass defense, according to FO, and Short has been a large part of that success, grading as the 10th-best defensive tackle in the NFL, per PFF. With quick passing attacks becoming more popular around the league, the ability to generate interior pressure is more important than ever. Short can provide just that, and should be able to secure a hefty contract after being unable to work out a deal with Carolina over the offseason.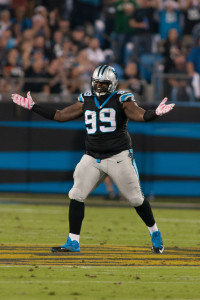 5. Jamie Collins, LB: Collins' contract status has been the subject of much discussion after he was traded from the Patriots to the Browns last week — while Collins has disputed that he wants "Von Miller" money (six years, $114.5MM), other reports have indicated that Collins wants to beat Luke Kuechly's $12.36MM annual salary. Despite insinuations that Collins was "freelancing" on New England's defense, he's still a highly talented player against both the run and pass, and if Cleveland opts to use him as more of a pure edge rusher, he could be in line for an even larger contract. The Browns haven't talked contract with Collins yet, but there's almost no chance they'll let him go after sacrificing a conditional third-rounder to acquire him.
6. Melvin Ingram, LB: A former first-round pick, Ingram finally blossomed in 2015, when he started all 16 games and registered 10.5 sacks, good for 12th in the NFL. Injuries had limited Ingram in seasons prior, and it wasn't minor ailments that sidelined him — an ACL injury wiped out most of his 2013 campaign, while a hip issue caused him to miss six games in 2014. But after proving his health last year and thus far in 2016, Ingram should be able to garner a nice deal on the open market, as edge rushers are often in short supply. For what it's worth, Ingram changed agents this summer, opting to join Roc Nation.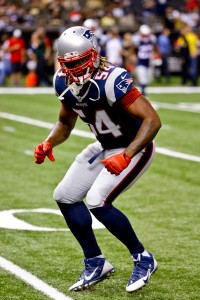 7. Dont'a Hightower, LB: Now that two other players on this list — Jones and Collins — have been shipped out by Bill Belichick & Co., the Patriots seem to be indicating that Hightower is the man they want to keep around. Hightower, 26, was reportedly one of several Patriots who were offered team-friendly deals by the club earlier this year, but no agreement has been reached to this point. Officially elected as a captain prior to this season, Hightower is viewed as a leader of New England's defense, and has graded as the No. 7 off-ball LB in 2016, according to PFF, which ranks him as the best pass-rushing inside 'backer in the league.
8. Kevin Zeitler, G: Zeitler placed a Week 1 deadline on extension talks with the Bengals, and given that no deal came to fruition, he'll reach the free agent market next spring barring the franchise tag (which is highly unlikely for a guard). Cincinnati has already committed to its other guard, Clint Boling, re-signing him to a four-year deal prior to the 2015 campaign, so it's unclear if the club would hand money to another interior lineman. But Zeitler has been the mark of consistency since being drafted in the first round of the 2012 draft, and should score a large contract wherever he lands. Fellow guard T.J. Lang will be his primary competition in free agency, but at 26, Zeitler is more than two years younger than the Green Bay lineman.
9.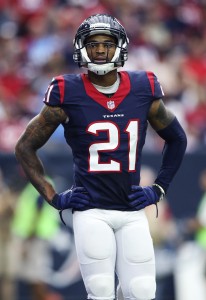 A.J. Bouye, CB: Perhaps the first surprise on this list, Bouye has become a breakout star in his fourth NFL season, grading as PFF's No. 1 overall cornerback. The concerns are obvious: Bouye has started all of 12 games during his four-year career, andhas only started half of Houston's games this season. And he'll face a lot of positional competition in free agency, as Trumaine Johnson, Stephon Gilmore, and Morris Claiborne will be among the other corners on the open market. But at 25, Bouye is younger than all of those options, and could see earnings based on his upside. Peter King of TheMMQB.com recently predicted Bouye could get $8MM annually as a free agent.
10. Le'Veon Bell, RB: Listing a running back on a ranking such as this is typically anathema, as backs simply don't earn in free agency, regardless of their talent level. Bell could be different, however, as his ability both as a runner and as a pass-catcher is exceedingly valuable in today's NFL. The risks are there: injuries and suspensions litter Bell's career, and many clubs might be wary of locking him up. But it only takes one team to envision what Bell could add to its offense, and subsequently sign him to an expensive deal. The Steelers aren't currently negotiating with him, but Bell should be able to surpass the $15MM guaranteed that Doug Martin received last offseason.
Others considered: Eric Berry, Calais Campbell, Stephon Gilmore, Tony Jefferson, Trumaine Johnson, T.J. Lang, Nick Perry, Dontari Poe, Ryan Schraeder.
Photo courtesy of USA Today Sports Images.
Follow @PFRumors