Yesterday, the Patriots shocked the football world when they shipped linebacker Jamie Collins to the Browns for a future draft pick. While there has been speculation about Collins' work ethic and possible friction with Bill Belichick, the deal was also driven by the Pats' realization that they won't be able to re-sign him to a team-friendly deal this offseason. The Patriots didn't formally offer Collins a new deal (despite reports to the contrary), but they floated the idea of an $11MM/year contract, according to Jeff Howe of the Boston Herald (on Twitter).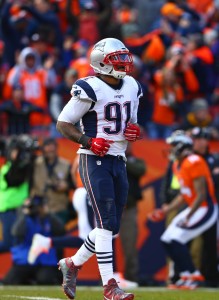 After trading for the pending free agent, the Browns are obviously looking to lock Collins up for the long term. Ian Rapoport of NFL.com (on Twitter) hears that Collins is looking to eclipse the $12.36MM/year that Luke Kuechly is making on his current deal with the Panthers. Collins' camp views him as a hybrid player and will push for a deal that would put him in the top four amongst all linebackers in terms of AAV. Collins reportedly told the Patriots that he wanted "Von Miller money" at one point during talks, so it sounds like his demands have come back down to earth a little bit.
Meanwhile, former Pats assistant Mike Lombardi discussed the Collins deal on the latest edition of The Bill Simmons Podcast (audio link). During the interview, Lombardi shed some light on why New England was willing to bail on the talented linebacker in the middle of the season:
"The one thing you have to do, Donnie Walsh said this to me in 1990s, or the late 80s, 'You've got to know what you're trading before you make a trade.' And that's the one caveat that Belichick knows; he knows what he's trading. He's trading a guy who is very talented, but very moody, very inconsistent with his effort, and so for him to pay that player that type of money sends a message to the locker room that, look, I tolerate this and I reward this. He's never doing that. And when Belichick, every message he sends in terms of a contract is a message to the locker room."
Photo courtesy of USA Today Sports Images.
Follow @PFRumors