Even though the defending Super Bowl champions are a member of the AFC West, the division's prospects looked extremely cloudy heading into the 2016 division. In PFR's preseason predictions, three writers picked the Chiefs to take the division crown, with the Raiders and Broncos picking up two and one vote(s), respectively. Additionally, four of six PFR writers projected an AFC West club to claim a Wild Card berth.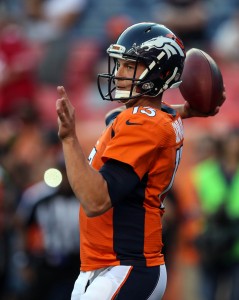 And thus far, the division is still up for grabs — the Broncos, Raiders, Chiefs, and Chargers all rank in the top half of the NFL in DVOA, while Denver, Oakland, and Kansas City all have better than a two-thirds chance of making the postseason, according to Football Outsiders (all statistics current through Week 8). In Week 9, the Chiefs have already posted a victory, the Chargers are leading the Titans, and the Broncos and Raiders will square off in an extremely important Sunday night contest.
Each of the four teams in the division has an area where they could improve, including the two clubs who will play tonight. While Denver's defense is once again one of the best in the league, its offense ranks just 21st in DVOA. Much of that struggle can be attributed to quarterback Trevor Siemian, but the Broncos' offensive line play has also been poor. Oakland, meanwhile, has posted excellent offensive numbers, but its defense is giving up more than 410 yards per game, 31st in the NFL.
The Chiefs are using the Denver model (20th in offensive DVOA, ninth in defensive DVOA), and are dealing with an injury to their quarterback, Alex Smith. Kansas City's rushing attack has been impressive based on raw totals, but on an efficiency basis, the club ranks 29th in the league.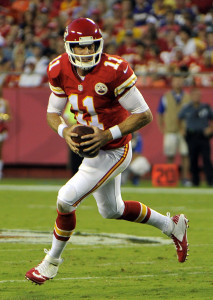 San Diego's defense is also playing well, as is Philip Rivers, but the Chargers could use more help from their offensive line, which ranks in the bottom-third of the NFL in both run- and pass-blocking, per FO.
Tonight's game will have a large impact on both Denver and Oakland's playoff odds: as Brian Burke of ESPN.com tweets, the Broncos are facing a 15.9% probability leverage (change in chance of making the postseason based on the results of this week's game), while the Raiders are staring down a 26.2% PL. The Chiefs and Chargers were looking at a 21.2% and 13.6% change, respectively.
So, what do you think? Will Broncos hold on to defend their division title? Will the upstart Raiders upend them? Will the uber-consistent Chiefs take over? Or will the Chargers surprise everyone and storm back to take the crown? Vote below, and leave your thoughts in the comments section!
Follow @PFRumors