After head coach Todd Bowles benched Muhammad Wilkerson and Sheldon Richardson for the first quarter of the Jets' loss to the Dolphins last Sunday, a report indicated the decision stemmed from the defensive line duo's lack of punctuality. Wilkerson and Richardson were late or absent from team meetings "all the time" prior to Sunday, per Connor Hughes of NJ.com.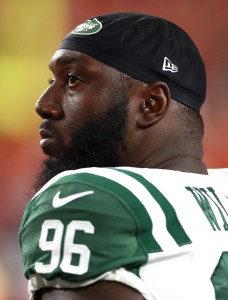 Both players acknowledged their indiscretions Wednesday, though Wilkerson was the more penitent of the two. The 27-year-old admitted that tardiness to team meetings has been a problem, and he revealed that he missed the Jets' walkthrough Oct. 22 – the day before their win over the Ravens – relays Brian Costello of the New York Post.
"Those actions are unacceptable and I definitely feel as a leader on this team I definitely need to do better," Wilkerson said. "I respect the coaches and everybody in this building. I take responsibility for my actions. Moving forward, it won't be an issue. I know as a leader on this team I have to show better, do better. That's something I will do."
Regardless of whether Wilkerson lives up to his word, it's fair to say the Jets weren't envisioning a mix of commitment issues and a decline in performance when they inked him to an extension in July with $37MM fully guaranteed. Wilkerson has amassed just two sacks and five quarterback hurries in eight games – both far cries from the 12 and 20, respectively, he totaled over 16 contests last season en route to his first Pro Bowl nod and second All-Pro selection.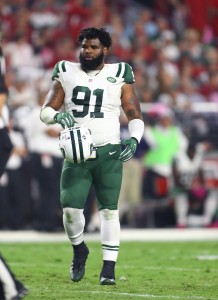 With 1.5 sacks and nine hurries, Richardson's pass-rushing production this year has been similar to Wilkerson's, and a source told Costello that Richardson has indeed been late to multiple team meetings. The 25-year-old denied that, however, saying that it happened once – last Friday – and only because he overslept.
"It has been blown way out of proportion," he opined. "I know me missing the first quarter isn't blown out of proportion, but it was one meeting. It is how it is."
Going forward, it's possible the 3-6 Jets' next seven games will be Richardson's final stretch with the club. General manager Mike Maccagnan discussed a Richardson trade with at least two teams – the Cowboys and Broncos – in advance of the NFL's Nov. 1 deadline and reportedly sought a first-round pick. Maccagnan will try to market Richardson again in the offseason, according to Costello, but the defender hasn't helped his value this year. Richardson also has two league-imposed suspensions on his resume, of course, and just one year remaining on his contract. Add all of that up, and the Jets won't have better luck moving Richardson during the offseason without decreasing their asking price.
Photo courtesy of USA Today Sports Images.
Follow @PFRumors