Yesterday, Eagles wide receiver Josh Huff was pulled over for speeding on the Walt Whitman Bridge. When cops inspected his car, they found that he was in possession of a gun and marijuana. The arrest could have major legal ramifications for the 25-year-old while also impacting his NFL future.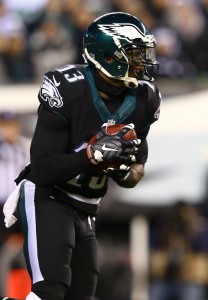 The major issue here is that Huff is not licensed to carry a weapon in New Jersey. However, lawyer Fortunato Perri Jr. tells The Associated Press that he is licensed in his home state of Texas. New Jersey has strict gun laws and does not cross-honor permits from other states, but Huff's attorney is going out of his way to make the distinction and probably feels that it will help his case.
For now, Huff faces charges for gun possession without a permit, possessing a magazine with six hollow-point bullets, and "a disorderly persons offense" for having less than 50 grams of pot. Given the tough gun laws in N.J., Huff could face separate charges for each of those six bullets.
Coach Doug Pederson told reporters today that Huff will be available for Sunday's game against the Giants until they got more information.
Photo courtesy of USA Today Sports Images.
Follow @PFRumors