Thanks to injuries and his suspension, Marcell Dareus has appeared in just one game for the Bills this season. During his ban, Dareus let himself go and some in the Bills organization are frustrated with his perceived lack of effort, according to Jason Cole of Bleacher Report (video link).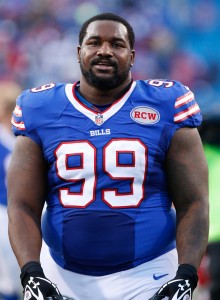 Some team officials would like to cut ties with the defensive tackle, but that's easier said than done given the money owed to him going forward. The Bills would be on the hook for tons of guaranteed cash, money that was given to him a little over a year ago in a mammoth extension worth $95MM over six years with the potential to crack the $100MM mark. Typically, a drug policy violation would allow the Bills to get out of all guarantees, but a rare clause in his contract limited the punishment to only the year of the misstep. In other words, Dareus' 2016 guarantees went out the window, but all other guarantees through 2021 remained untouched.
A defensive tackle under old head coach Doug Marrone, the Bills switched Dareus to nose tackle spot under Rex Ryan last year. Dareus' gaudy sack totals went away, but he was still a powerful run stuffer and Buffalo felt compelled to lock him up. Given the headaches of this season, the Bills are unquestionably regretting their decision. Trouble is, there's no easy way out with the soon-t0-be 27-year-old.
Photo courtesy of USA Today Sports Images.
Follow @PFRumors