Seantrel Henderson's season is over. The offensive lineman has been hit with a ten-game ban, the team announced.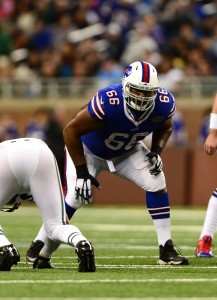 Henderson violated the NFL's Policy and Program for Substances of Abuse. He appealed the decision, but it appears that his bid to 86 the suspension was denied. Henderson has been treating his Crohn's disease with marijuana and he likely appealed on the basis that he was using the drug as medication, not for recreational purposes. There has been a movement to allow marijuana use for NFL players, but the rules will not change until the offseason, at the earliest. Any changes to the drug policy must be made through the Collective Bargaining Agreement and, of course, that must be hammered out between the league and the NFLPA.
Henderson already served a four-game suspension at the start of this season for a similar violation. Now entrenched in the program, Henderson is subject to additional tests and increased penalties when he fails. Therefore, the newest ban will span ten games, ruling him out for the remainder of the 2016 regular season and possibly bleeding into 2017.
Henderson remains under club control for the 2017 season, the last year of his rookie contract. He will count just over $700K against the cap, so there is a good chance Buffalo will keep him around.
Photo courtesy of USA Today Sports Images.
Follow @PFRumors