The Broncos have made their share of seminal in-season quarterback changes in recent years, and given the investment the team made in Paxton Lynch, one coming in 2016 makes sense. But the team is not looking to bench Trevor Siemian in the near future, Ian Rapoport of NFL.com reports.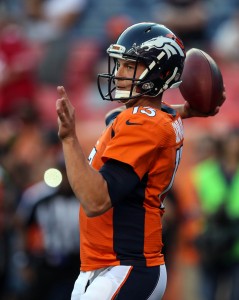 Siemian's status as a second-year player selected in the 2015 seventh round hasn't deterred him from guiding the Broncos to a 7-2 record under his watch (the Gary Kubiak-Siemian partnership's resulted in a 7-1 record). So despite his struggles and the Denver offense's limitations this season, the defending champions are likely to stick with their starter through the Week 11 bye, Rapoport reports.
This report came before Siemian's uneven-yet-effective performance in the Broncos' 25-23 win over the Saints. The former Northwestern passer completed 25-of-40 passes for 258 yards and two touchdown passes, with two interceptions — one thrown right to Kenny Vaccaro — interspersed in that line. The Broncos entered Sunday ranking 28th in offense, with their run game having sputtered for much of the season, but Siemian's 86.2 rating outpaces the Peyton Manning/Brock Osweiler 2015 combination's 76.2 figure.
However, Rapoport noted Siemian continues to struggle with the non-throwing shoulder injury he suffered in Week 4 in Tampa Bay. He absorbed several hits on Sunday, including six sacks.
Kubiak, per Rapoport, believes Siemian is the best option, with issues like the ground game and shaky offensive line play limiting him. That said, the higher-ceiling backup figures to supplant the game-managing starter at some point, whether it's down the stretch or in 2017. And the franchise has shown making late-season changes isn't out of the question, regardless of its standing in the playoff race.
The Broncos have made two notable down-the-stretch quarterback changes over the past 10 years, with Jay Cutler replacing Jake Plummer late in 2006 and Manning recapturing his job just before the playoffs last season. Tim Tebow's ascent came in Week 6 of the 2011 campaign, when the Broncos were not contending at the time.
Lynch played well in his first audition — the second half of an October win against the Buccaneers — but faltered in his first start the following week in the team's loss to the Falcons. The Broncos host the Chiefs in Week 12 and play five of their final six contests against playoff-contending teams.
Photo courtesy of USA Today Sports Images.
Follow @PFRumors