One of the few pieces of bad news affecting the 2016 Cowboys, the status of Morris Claiborne is now in doubt as far as immediate availability is concerned. The late-blossoming cornerback has not played since October 30, and conflicting reports have emerged on the severity of the injury that's kept him out.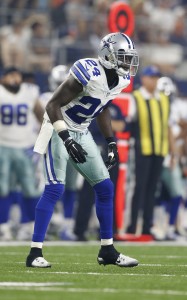 Claiborne will not play against the Vikings next week. A consensus has formed on that, but when exactly he'll return varies. Brandon George of the Dallas Morning News reports the fifth-year player is ahead of schedule (Twitter link) in recovering from a strained groin, and Morning News colleague Jon Machota tweets Claiborne hopes to resume running on Monday.
"It's much better now. Actually moving around now," Claiborne said, via Machota (on Twitter), before adding the expiring-contract performer will get an MRI in a couple of weeks.
This seemingly puts his timetable further away, as does a report from Clarence Hill of the Fort Worth Star-Telegram. Hill tweets Claiborne is "nowhere close to returning," with the cornerback's injury not merely a groin problem but one caused by a bone being torn off his pelvis that may induce a surgery. Claiborne's MRI, per Hill, will occur in two or three weeks.
The Cowboys have functioned well obviously without Claiborne's services in surging to their longest win streak in franchise history after today's win over the Ravens. Dallas entered the day ranking just 21st in pass defense, however.
Claiborne has 26 tackles, five passes defensed and an interception this season and has played better than he did during his rookie contract, one that would have carried over into this season had Dallas picked up the former top-10 pick's fifth-year option. Instead, Claiborne received scant free agent interest and accepted a one-year, $3MM deal to return.
Regardless of this injury, it seems Claiborne will see a bigger market for his 2017 services. How much bigger will depend on how the rest of this season goes. Should this setback be one that defines his season and prevents him from returning at full strength, it would certainly hamper his prospects at securing a multi-year, big-money contract. Considering the ex-LSU standout has an extensive injury history, having now missed 30 games in his career, his actual timetable will be crucial to his value as well as the Cowboys' hopes at making a Super Bowl run.
Photo courtesy of USA Today Sports Images.
Follow @PFRumors