Over the weekend, it was reported that Matthew Stafford wants $25MM per year on his next contract. When asked about those rumblings today, Stafford issued a clear denial.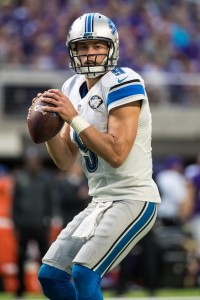 [RELATED: Jason La Canfora On Stafford And Much More]
"That was news to me, to tell you the truth," Stafford said. "Hadn't, obviously, had any thoughts of that in my mind, to tell you the truth. I don't know where that came from or how it got out there, but I'm focused on our team, this season, playing well this week. That's really all I care about."
It's possible that Stafford has that $25MM figure in mind, but doesn't want his contract to become a distraction for the team. Stafford may also be telling the truth on a technicality. It could be his reps that are seeking $25MM per season while he mostly stays out of the talks. In any event, this is a public denial by Stafford that he is eyeing a contract that would make him the highest-paid player in the NFL.
Stafford closed strong in 2015 and he has continued to play well through the first half of 2016. He's not the top quarterback in the NFL, but timing is everything and between his contract year performance, the league's dearth of reliable quarterbacks, and the increased salary cap, he could be poised to set a new watermark. Stafford doesn't turn 29 until February and Andrew Luck's five-year extension worth $24.6MM per year could be in his crosshairs.
So far this year, Stafford is Pro Football Focus' No. 9 rated QB in the NFL, putting him behind Tom Brady, Matt Ryan, Luck, Russell Wilson, Drew Brees, Derek Carr, Carson Wentz, and Cam Newton. By that measure, he's also ahead of guys like Aaron Rodgers, Dak Prescott, and Philip Rivers.
Photo courtesy of USA Today Sports Images.
Follow @PFRumors