Following the Patriots' loss to the Seahawks last night, Rob Gronkowski acknowledged that the tackle he took from safety Earl Thomas was one of the hardest hits he ever received. Well, that second-quarter play could cost Gronk some playing time.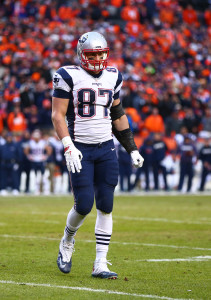 NFL.com's Ian Rapoport reports (via Twitter) that Gronkowski suffered "what is believed" to be a punctured lung during the team's loss and could miss "just one game." The wording makes it sound like the tight end could miss more than a week, although that's my speculation.
It is worth noting that Gronkowski stayed in the contest for the rest of the game. And, if it really is a punctured lung, then it's hard to imagine that Gronk would have been able to play through it. The Patriots are set to travel to San Francisco to take on the 49ers this weekend, and Dr. David J. Chao tweets that Gronk may not be allowed to fly with the injured lung. ESPN's Adam Schefter tweets that Gronkowski has a "chest injury" and not a punctured lung. Schefter notes that the injury is "not overly serious." We should have more clarity on Gronkowski's situation tomorrow.
Either way, it should be a relief for the Patriots that their star tight end isn't expected to be sidelined for very long. Despite missing the team's first two games of the season, Gronkowski has still managed to haul in 25 catches for 540 yards and three touchdowns. The former second-round pick certainly isn't a stranger to injuries, as Gronkowski has missed 18 regular season games during his seven-year career.
Gronk wasn't shy when describing the hit he received from Thomas:
"Yeah, that was a big hit for sure; probably one of the hardest I've got hit in my career for sure," he said (via Will Brinson of CBSSports.com). "(It was) by a good player; a good fast player who's like a missile."
"It was a good, clean hit; nothing against it. I just took it and it just knocked the wind out of me a little bit, that's all. If you've ever gotten the wind knocked out of you, you know what that feels like. Just down for about a minute or two, it's a little tough to breath, but once it comes back, you're good."
Fortunately for the Patriots, if Gronkowski does miss time, the team has a solid insurance policy in offseason addition Martellus Bennett. The 29-year-old has been productive during his first season in New England, compiling 38 catches for 504 yards and four touchdowns.
Photo courtesy of USA Today Sports Images.
Follow @PFRumors