Viewed as one of the NFC favorites after ascending to the NFC West title and the franchise's second conference championship game since the merger last season, the Cardinals have joined the Panthers in putting together an underwhelming follow-up effort.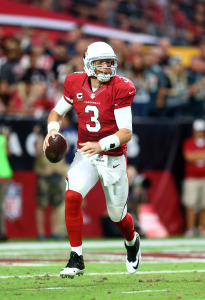 But GM Steve Keim does not see this as a sign to blow up the team and orchestrate a rebuilding process. Keim said during a radio appearance Monday he sees the potential for this group to make another run in 2017.
"I really do feel like there are enough good quality core pieces in place, not only contractually, but with age," the fourth-year GM said on Arizona Sports 98.7 FM (via Bob McManamon of the Arizona Daily Republic). "We have a nice core of defenders, and I think we have some talent on offense. So whatever happens after the season, whether it's players moving on or continuing to stay on or whatever it may be, I don't think it's a situation where it's a complete revamp of this team to make it better."
Arizona slunk to 4-6-1 after the loss in Atlanta. It's not necessarily out of the realm of possibility the Cardinals make a last-ditch playoff push, as they sit less than two games out of the wild card, but it's looking unlikely. And major offensive pieces are in or nearing the twilight of their careers. Carson Palmer will turn 37 next month and has not come close to resembling his 2015 version, and Larry Fitzgerald — who will be 34 in 2017 — has been linked to retirement rumors. His supporting-cast wideouts are mostly off their 2015 respective paces as well. Starting linemen Mike Iupati and A.Q. Shipley will also be over 30 next season.
However, the Cardinals' defense ranked third in Football Outsiders' DVOA entering Week 11, when it surrendered 38 points. Plenty of young talent remains there, although some starters are impending free agents.
"I think it's going to be just some different pieces and we'll continue to stay aggressive and I can tell you, as disappointing as things are, I've never been more excited to continue to try and improve this team and put this organization in a good position to succeed," Keim said.
The Cardinals have the expiring contracts of Chandler Jones, Tony Jefferson, Calais Campbell and Michael Floyd to deal with after the season but stand to possess upwards of $37MM in cap space in 2017. Keim will need to make some key decisions since some key members of that talented defense are coming off the books soon.
Photo courtesy of USA Today Sports Images.
Follow @PFRumors