We now have some clarity on why Doug Martin is "stepping away" from the Buccaneers in advance of their regular season finale. Martin confirmed that he has been suspended for four games by the NFL. Though Martin's statement was vague as to the exact nature of the ban, the NFL says that it is a PED policy violation, not a recreational drug violation.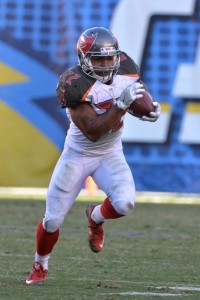 "I was notified last week of a four-game suspension for violating the league's drug policy," Martin said. "My initial instinct was to appeal the suspension and finish the season with my teammates. However, after numerous discussions with people close to me — including Coach [Dirk] Koetter — I am starting the suspension immediately so I can enter a treatment facility and receive the help I truly need…On the field, I must be strong and determined to push through both pain and injuries to become an elite NFL running back. Off the field, I have tried that same approach in my personal life. My shortcomings in this area have taught me both that I cannot win these personal battles alone and that there is no shame in asking for help."
Martin tested positive for Adderall and Ian Rapoport of NFL.com (on Twitter) hears that is one of the issues that he is dealing with. While Martin may have been taking Adderall recreationally, it is classified as a performance-enhancer by the NFL for its stimulating properties.
If Martin misses this weekend's game plus three in 2017, he'll forfeit $1.47MM in base salary. However, it's not a given that he'll even be under contract with the Bucs for next season. As a result of the PED suspension, Martin's $7MM 2017 salary guarantee will void, and that would allow the Bucs to release him without major penalty.
Based on his statement, it sounds like Martin was dependent on substances off of the field, but not necessarily using them for advancement on the field. With that in mind, one would expect Martin to appeal the suspension and have it re-classified as a substance abuse policy violation. Martin won't appeal the suspension right now, but it remains to be seen whether he can have the suspension altered with the help of the NFLPA.
Photo courtesy of USA Today Sports Images.
Follow @PFRumors