The Colts are losing a starting linebacker for the rest of the regular season. D'Qwell Jackson has been handed a four-game ban for violating the league's policy on performance enhancing drugs, according to a team announcement.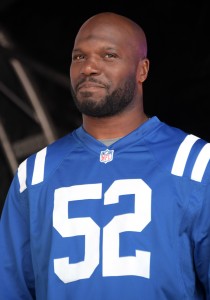 Obviously, this is a big blow to the 6-6 Colts as they fight to keep their playoff hopes alive. Now, they will likely move Edwin Jackson into a starting role. The Colts also have ILBs Antonio Morrison and Deon King in reserve.
Jackson has appeared in and started in all 12 of the Colts' games so far this season. This year, he has 78 total tackles with one sack and two fumble recoveries. He's doing alright in terms of traditional stats, but the advanced numbers at Pro Football Focus say he's just the 79th best linebacker in the NFL out of 89 qualified players. In fact, Edwin Jackson is ranked higher at No. 74. For what it's worth, Morrison and King have weak grades in their limited sample size this season.
This isn't Jackson's first misstep. In March, he was found guilty of simple assault, stemming from a February 2015 altercation with a delivery driver.
Photo courtesy of USA Today Sports Images.
Follow @PFRumors