Joe Thomas trade rumors figure to surface again once the Browns' season concludes, with the perennial All-Pro set to go into his age-32 season in 2017 on the heels of what could be a winless Cleveland campaign.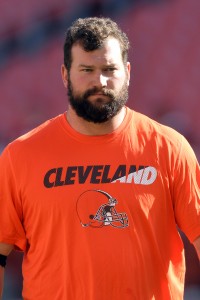 But Hue Jackson insisted an offseason Thomas trade is not going to occur, no matter how much sense it would make for a franchise that's attempting one of the biggest grass-roots rebuilds in modern football history.
"That is not happening, OK? — or I am going with him," Jackson said, via Nate Ulrich of the Akron Beacon Journal. "OK? I guarantee you that. I am going with him."
Jackson also said the organization did not discuss trading Thomas at the deadline as it did last season, when the Broncos nearly acquired the six-time All-Pro for a Shane Ray-fronted package. But the first-year Browns coach charged with orchestrating this re-emergence said he would have objected if management attempted to push a trade through. Talk was the Browns wanted a second-round pick for the now-32-year-old left tackle, and although teams were interested, the interest did not reach the level it did in 2015.
"I would have [put my foot down]. There is no question," Jackson said. "Joe Thomas means a lot to me personally and a lot to this organization and this team and this city. He has done too much, and we need to keep him here. Joe is an asset to this organization is so many different ways."
Thomas is signed through 2018, due to make a nonguaranteed $10MM in both '17 and '18, so interest should resurface — potentially around draft weekend. Cleveland's longest-tenured player has repeatedly expressed desire to stay with the team despite the franchise's present status, and that remains as the Wisconsin product finishes out his 10th season.
"I'm a Clevelander," Thomas said, via Elizabeth Merrill of ESPN.com. "I've spent the majority of my adult life here. Every day when I come to work, it's 'Let's turn this team into a consistent winner.' Because it would be such a special story. It would be like when the Cubs won the World Series. … It's so important for me to be here for the turnaround. I don't want to just get a Super Bowl ring [by] being traded to a dream team. It would feel unsatisfying."
Merrill reports Jackson did talk to Thomas after he voiced what many took as an issue with the Browns letting so much talent depart in free agency, most notably offensive linemen Mitchell Schwartz and Alex Mack, with Thomas telling the first-year coach he did not mean the comments to be controversial.
Photo courtesy of USA Today Sports Images.
Follow @PFRumors