With Tuesday's NFL trade deadline approaching, the Vikings, Colts and Seahawks are looking to bolster their offensive lines for potential playoff runs, according to Jason Cole of Bleacher Report (video link). It's unclear if any of those teams will offer enough for either of the best offensive tackles potentially on the move – the Browns' Joe Thomas or the 49ers' Joe Staley – says Cole, who adds that it would likely take at least a second-round pick to land one of them.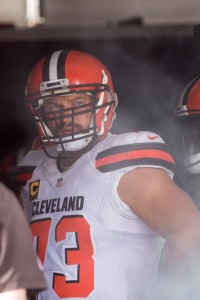 Despite his Hall of Fame-caliber resume, interest in the 31-year-old Thomas is limited, Mike Florio of Pro Football Talk reported Friday. Browns head coach Hue Jackson has shot down rumors that the team is shopping the nine-time Pro Bowler, and Thomas has made it clear that he doesn't want to leave Cleveland, but general managers around the league expect a deal to materialize by the deadline. Any team that trades for Thomas would be on the hook for the cap charges remaining on the seven-year, $84MM extension he signed in 2011. Thomas has a $9.5MM cap number for this year and a $10MM figure in each of the next two seasons, though there's no dead money left on his deal.
Staley, 32, hasn't achieved Thomas' level of success, but the 10th-year man has nonetheless been a terrific and durable lineman throughout his career. Now, there are conflicting stories on whether the five-time Pro Bowler is on the block. Staley's contract isn't nearly as club-friendly as Thomas', with a combined $13.2MM in dead money remaining from 2017-19 and individual cap holds of $8.3MM, $11.15MM, and $7.7MM in both 2018 and '19.
At 5-1, Minnesota is in a tie with Dallas for the best record in the NFC, but the Vikings' offensive line has been problematic from a run-blocking standpoint. The group ranks last in the NFL in Football Outsiders' adjusted line yards metrics, and the Adrian Peterson-less running back corps is looking up at the rest of the league with a paltry 2.6 yards per carry. Further, after the team's 21-10 loss to the Eagles last week, head coach Mike Zimmer called the O-line "soft." Quarterback Sam Bradford, in whom the Vikings invested a significant amount after Teddy Bridgewater's catastrophic injury, took six sacks in Philadelphia, though the Vikings have only allowed 14 this year.
Without left tackle Matt Kalil, who went on injured reserve after Week 2, the Vikings have turned to T.J. Clemmings and Jake Long and received underwhelming results. Either Thomas or Staley would provide a major boost on Bradford's blind side, but the Vikings are already without a first-round pick in 2017 because of the Bradford trade. Losing another high selection wouldn't be optimal, as general manager Rick Spielman said earlier this month.
"We're still going to always build through the draft. You can't do that without having the draft picks," he stated.

Unlike the Vikings', the Colts' pass blocking has been disastrous. Quarterback Andrew Luck has taken a league-worst 25 sacks this year, and FO ranks the team's line 30th in adjusted sack rate. Acquiring Thomas or Staley would enable the Colts to shift left tackle Anthony Castonzo to the right side, thereby sending fifth-round rookie Joe Haeg to the bench. However, the 3-4 Colts don't look like a team that should be parting with valuable draft choices, and picking up Thomas or Staley would add another sizable contract to the ledger on the offensive side of the ball. GM Ryan Grigson said three weeks ago that the Colts are at a disadvantage in building a defense because of Luck's deal, so it's difficult to envision them racking up another big-money offensive cog.
The 4-1-1 Seahawks are above average in adjusted sack rate (13th) and sacks surrendered (fifth), but they might have incentive to further strengthen their line with quarterback Russell Wilson playing through multiple injuries and left tackle Bradley Sowell on the shelf with a knee sprain. Plus, unlike in years past, Seattle has struggled to run the ball, ranking 28th in adjusted line yards and 31st in YPC (3.1).
With each of these teams set to play another game before the deadline, this week's outcomes could affect whether they make a late push for Thomas or Staley. The same goes for the league's other playoff contenders, as an injury to a left tackle could send a GM scrambling to the phone to call Cleveland's Sashi Brown or San Francisco's Trent Baalke about their O-line stalwarts.
Photos courtesy of USA Today Sports Images.
Follow @PFRumors