Redskins offensive coordinator Sean McVay and Dolphins defensive coordinator Vance Joseph are the latest serious candidates to fill the 49ers' head coaching vacancy. McVay will interview next Monday, per Mike Florio of Pro Football Talk, and Joseph will also meet with the team sometime in the near future, tweets Rand Getlin.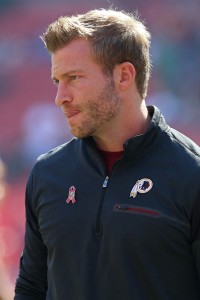 If McVay were to land the job, the soon-to-be 31-year-old wunderkind would become the youngest head coach in the modern era. McVay, who has three years' experience as a coordinator, teamed with head coach Jay Gruden to guide the Redskins to the NFL's third-best total offense and a fifth-place DVOA ranking this season. The Rams are also targeting him as a result, though going to San Francisco – where his grandfather, John McVay, once thrived as an executive – would perhaps make for a more interesting story.
Unlike McVay, Joseph's season isn't over – the playoff-bound Dolphins will take on the Steelers in the wild-card round this weekend. Thus, it's unclear when he'll meet with the Niners. The Broncos will also interview Joseph, according to Getlin, while the Rams, Bills and Chargers have expressed interest in sitting down with him. Joseph, 44, is amid his first year as a defensive coordinator, one in which the Dolphins finished the regular season with unspectacular rankings in scoring (18th), DVOA (19th) and total defense (29th).
Photo courtesy of USA Today Sports Images.
Follow @PFRumors