Coming off one of the most disappointing seasons in franchise history, the Panthers are set to make their first draft pick at No. 8. A position the team could look to target is tackle, where its incumbents have uncertain futures and potentially lower career trajectories than talents available at 8. But GM Dave Gettleman doesn't hold this incoming tackle class in particularly high regard.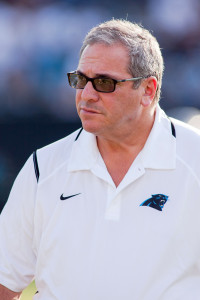 "It's not great," Gettleman said, via Jourdan Rodrigue of the Charlotte Observer, of the 2017 tackle class. "Here's the other thing. In the past I've gotten killed for not drafting tackles. I'll tell you right now, if you overdraft a guy, you're going to be upset. The coaches are going to be upset. The team is going to be upset. Everybody's going to be mad at the guy, and it's not his fault. … I just will not reach. No matter how bad the perceived need is, I'm not going to reach."
Alabama's Cam Robinson, Wisconsin's Ryan Ramczyk and Utah's Garrett Bolles are viewed as first-round talents. Mike Remmers will be a UFA, and Michael Oher's future is uncertain after a severe concussion forced the recently re-signed left tackle to IR. The team drafted Daryl Williams in the fourth round in 2015 and started him in 10 games in his second season. As for Oher, signed to a three-year deal worth $21.6MM last offseason, Gettleman does not know about his 2017 status but will gauge the veteran tackle market for depth purposes if nothing else.
"You want to have as good a set of backup players as you can. Where we're at right now is we're gonna look at players, because right now we just don't know," he said. "I haven't spoken to Michael in a little bit. I haven't texted with him in a little bit. I want to back off and leave him alone. Because we want what's best for Michael, really and truly. … We're gonna look [at tackle options] but it's more a function of making sure you build your team as strong as you can, because the backups play."
The Panthers have a sizable collection of noteworthy free agents, including Kawann Short, Mario Addison, Charles Johnson and Ted Ginn. Gettleman said the staff is in the process of determining who the team wants to retain. Addison said recently he wants to come back, and Johnson would be interested in returning as well after re-signing with the Panthers on a one-year deal last March. Rodrigue estimates Ginn will be a priority, along with Short. Ginn changed agents earlier this month, with Drew Rosenhaus now representing the 31-year-old wideout.
"We're not doing rocket science," he said. "Anybody could identify the guys [with whom] we're trying to get deals done. And I really believe deals get done when they're supposed to be done. I know we're reasonable, and every agent that we've dealt with to this point has been very reasonable."
Photo courtesy of USA Today Sports Images.
Follow @PFRumors