Jimmy Raye III, who is acting as the Colts' interim GM in the wake of Ryan Grigson's dismissal, is the favorite to become the team's full-time GM, according to Ian Rapoport of NFL.com (via Twitter). Rapoport adds that, if head coach Chuck Pagano has a vote in the matter–and it's not clear that he does, given his apparently tenuous grasp on his own position–Raye would get that vote.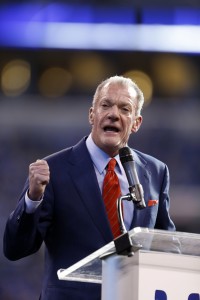 We learned last night that the Colts' GM job is viewed as one of the premier posts in the NFL, and that it would attract the eye of multiple rival executives. And that makes sense, given that Indianapolis has a star quarterback already signed to a long-term deal, an owner who, for all his eccentricities, does exhibit patience with his hires, and the potential opportunity to hire a new head coach at the end of the 2017 season. But despite the attractiveness of the position, the Colts may already have their man in Raye, who interviewed for the 49ers' GM job but did not make the list of finalists.
Raye, who participated in all of two games in his NFL playing career (as a wide receiver for the Rams in 1991), certainly paid his dues over the following two-plus decades. He served as the Chiefs' offensive quality control coach in 1995 before working in the Chargers' organization from 1996-2012, first as a scout, then as director of college scouting, then as director of player personnel. He joined the Colts in 2013 as the club's vice president of football operations, and he served in that capacity until yesterday, when he became the interim GM.
Raye is the son of Jimmy Raye II, who worked as a coach and offensive coordinator for a number of teams from 1977-2013.
Photo courtesy of USA Today Sports Images.
Follow @PFRumors