With quarterback Kirk Cousins unsigned as free agency approaches, the Redskins are willing to weigh their options with the 28-year-old and could entertain trading him, a Washington source told Jason Cole of Bleacher Report (video link). In addition to the previously reported 49ers, the Browns would likely chase Cousins if the Redskins were to shop him, according to Cole.
The 49ers would consider surrendering the No. 2 pick in the draft to land Cousins, per Cole, which jibes with what ESPN's Adam Schefter wrote Friday. Plus, with Kyle Shanahan set to take over as San Francisco's head coach, the team would have an obvious connection to Cousins. Shanahan was the offensive coordinator in Washington during Cousins' rookie year, 2012. Cousins only attempted 48 passes that season as the backup to then-rookie sensation and now-Brown Robert Griffin III, but he might have ended up in a different organization if not for Shanahan. The Redskins used a fourth-round pick to select Cousins, and Shanahan was "integral" in making that happen, according to Ian Rapoport of NFL.com (via Conor Orr of NFL.com).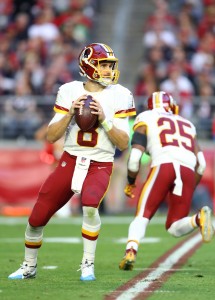 Whether via the $23.94MM franchise tag or a long-term deal, Cousins will come at a high price tag next season. That wouldn't pose a problem for the 49ers' cap situation, as they currently have upward of $81MM in room as March nears. It would be even less of an issue for Cleveland, the only team with more spending space than the Niners. While the Browns will lose a large chunk of that $108MM-plus when linebacker Jamie Collins' mega-extension becomes official, they'll still easily pace the NFL in available money.
In joining the Browns, who possess the first and 12th picks in this year's draft, Cousins would head to a team with an offensive system akin to the Redskins'. Browns head coach Hue Jackson and the Redskins' Jay Gruden were both offensive coordinators in Cincinnati before taking on their current roles and share similar philosophies.
Cleveland, which is coming off a one-win showing in Jackson's first year at the helm, will have the opportunity to select any signal-caller it wants in the draft and is reportedly high on North Carolina's Mitch Trubisky and Clemson's Deshaun Watson. Unlike Trubisky, Watson or any other draft-bound QB, Cousins has already emerged as a quality pro and represents a far more established passer than anyone in this year's flawed class. While Cousins alone wouldn't turn the Browns into contenders, perhaps he'd help them accelerate their rebuild and start inching toward relevance.
Photo courtesy of USA Today Sports Images.
Follow @PFRumors