The Redskins' Kirk Cousins has continued to make the case this year that he's a franchise quarterback, most recently completing 41 of 53 passes for 449 yards and three touchdowns in a 31-26 loss to the Cowboys on Thanksgiving. The impending free agent stands to cash in over the coming months, and he'll look to do just that after the season.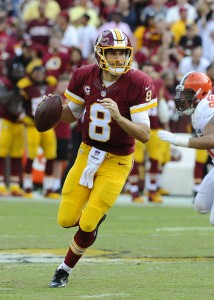 [RELATED: Cousins Tops 2017 Free Agent Power Rankings]
Cousins' starting point for long-term contract negotiations will be $23.94MM per year, reports Ian Rapoport of NFL.com (via Chris Wesseling of NFL.com). Placing the franchise tag on Cousins in the offseason would also cost the Redskins $23.94MM – a notable increase from the $19.95MM salary he's making this year as their franchise player.
Given his remarkable output since midway through the 2015 campaign, multiple general managers told Rapoport that Cousins is likely to receive upward of $20MM per annum on a long-term deal. After getting off to a rough start last year, his first as a starter, Cousins had a breakout Week 7 showing against the Buccaneers – the "You like that!" game – and hasn't looked back.
As Wesseling notes, Cousins has completed 70.1 percent of throws with 43 touchdowns, 10 interceptions, 8.4 yards per attempt and a 108.1 passer rating across his past 20 starts. The Redskins have also done their share of winning with the 2012 fourth-round pick, having gone 15-11-1 since he took the reins from Robert Griffin III entering last season, and the 6-4-1 club currently holds a wild-card spot a year after earning an NFC East crown.
There are conflicting reports over whether the Redskins would tag Cousins again, but it's hard to imagine the team letting him hit the open market after the season. A quarterback-desperate franchise would surely dip into free agency and give Cousins $20MM-plus per year in advance of his age-29 season, which would make him the 13th signal-caller in the league to receive at least that much annually. If a team matches his asking price of $23.94MM, he'd fall behind only Andrew Luck, Carson Palmer and Drew Brees in average yearly value. It's unknown how much guaranteed money Cousins is seeking, but Luck landed a league-high $87MM as part of the extension he signed over the summer. No other QB comes close to that figure, though both another salary cap increase and having several teams vying for Cousins' services would certainly improve his odds of approaching it.
Photo courtesy of USA Today Sports Images.
Follow @PFRumors