After last night's loss to the Patriots, Texans DT Vince Wilfork told reporters that he has probably played his last NFL game (Twitter link via Mark Berman of Fox 26 Houston). Wilfork did, however, stress that he is going to take his time to consider the matter before making an official decision.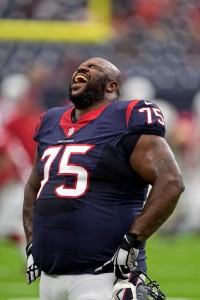 Wilfork's full statement, courtesy of Berman, is as follows:
"I'll take my time and think about it, but I think I've played my last NFL football game. I'll do my due diligence, sit back and see if I really want to retire. I don't know how long that'll take. It doesn't change the fact that I enjoyed every bit of my career. I enjoyed 11 great years in New England. I enjoyed two great years in Texas. Unbelievable teammates, I couldn't have any better teammates from both organizations. Two owners that anyone would love to play for."
If it is, in fact, the end of the road for Wilfork, he should retire without many regrets. He captured two Super Bowl rings during his 11-year stint with the Patriots, who selected him in the first round of the 2004 draft, and during that time, he established himself as one of the most dominant interior defensive linemen in the game. Raw numbers will not tell much of his story–for instance, he amassed just 16 sacks over the course of his career–but that is due to the position he played, not how effective he was. Indeed, most anticipate that he will be headed to the Hall of Fame when he is eligible for enshrinement.
He was selected to five Pro Bowls and garnered one First Team All-Pro nod in 2012. After his last season in New England in 2014, he signed a two-year deal with the Texans. Perhaps inevitably, the 35-year-old's performance regressed considerably this past season. He started in all 15 of his appearances and finished second among Texans defensive linemen in snaps (507), but Pro Football Focus (subscription required) ranked him just 99th among 123 qualified interior defenders.
As he will be eligible for free agency again this offseason, it is possible that Wilfork will suit up for a third team if he does not hang up the cleats.
Photo courtesy of USA Today Sports Images.
Follow @PFRumors