The NFC champion Falcons are inching closer to Super Bowl LI on Sunday, and once their showdown with the Patriots ends, they'll reportedly get to work on locking up quarterback Matt Ryan for the long haul. Team owner Arthur Blank confirmed as much Friday, telling Vaughn McClure of ESPN.com: "[Ryan] needs to be compensated well, certainly. And he will be."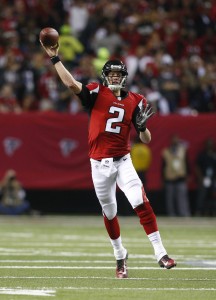 Ryan is already under control for the next two seasons as a result of the five-year, $103.75MM extension he signed in 2013, though Blank is eager to keep the 31-year-old in the fold into his late 30s or early 40s.
"When Matt was being interviewed this week, somebody asked him, 'What do you think about Tom Brady, his age, being 39 and will be 40 in August?' and Matt said, 'I'd like to play as long as Tom,' " Blank stated. "That's when I jumped up off the sofa and starting clicking my heels. We have a lot of young talent on both sides of the ball. But to have our quarterback in place for an extended period of time will be incredible news for Atlanta. Matt is in great shape and takes wonderful care of himself. So, I'm excited."
Falcons general manager Thomas Dimitroff expects to strike a deal with Ryan early in the offseason, having recently noted the organization's strong rapport with the four-time Pro Bowler's agent, Tom Condon, per McClure. Given that Ryan's in the midst of the best season of his nine-year career, Condon will certainly push to improve his client's standing as the league's 11th-highest-paid QB in the game.
While Ryan has been a standout since the Falcons drafted him third overall in 2008, the ex-Boston College star has truly thrived this season as the face of one of the most prolific offenses of all-time. He earned first-team All-Pro honors and is the front-runner to win the MVP, which will be awarded Saturday, after completing 69.9 percent of passes, throwing for 4,944 yards on 9.26 yards per attempt, and tossing 38 touchdowns against seven interceptions during the regular season.
Playoff success had eluded the Ryan-led Falcons in their previous four postseason trips, but not this year. The NFC South champs steamrolled the Seahawks and Packers by a combined score of 80-41 en route to their second Super Bowl berth in franchise history. Those wins came thanks in no small part to Ryan, who has hit on 70.7 percent of passes and logged seven touchdowns against no picks in these playoffs. Supremacy for the league's 2016 campaign will be on the line this weekend, but regardless of Sunday's outcome, it appears Ryan will have plenty of future opportunities to win championships in Atlanta.
Photo courtesy of USA Today Sports Images.
Follow @PFRumors