While multiple networks have now entered the Tony Romo equation, one suitor's interest may be dwindling. The Broncos are not aggressively pursuing Romo, per Jeff Darlington of ESPN.com, who adds Romo now believes his options are the Texans or retirement (Twitter link).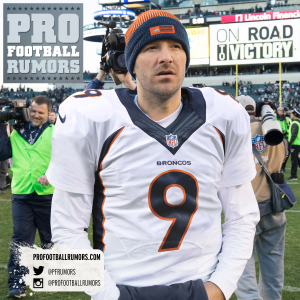 Darlington notes the Broncos haven't closed the door on Romo, but they may be a clear second behind the Texans at this juncture. Romo-pursuing talk has emerged from Denver more than Houston during this complex offseason for the soon-to-be 37-year-old quarterback, but the Texans now have a bigger hole at quarterback and more cap space ($30MM to the Broncos' $20MM) after making the unprecedented Brock Osweiler trade.
Romo has interest in the Broncos, Troy Renck of Denver7 notes. It's unclear if that's dissipated to the point a Denver route is no longer a reasonable consideration. Earlier this month, the Broncos resided as Romo's preferred destination. Darlington's report points to that no longer being the case. Renck notes the Broncos are still expected to express interest in Romo once he's released, reiterating the team has "zero desire" to trade for him. The Cowboys are likely hoping to make one final push at adding something in return for Romo when the owners convene beginning Sunday for their latest meetings.
A Romo deal with the Broncos would be expected to be for $5-$8MM in base salary, Renck writes, with incentives that would possibly enhance the quarterback's 2017 compensation to $14MM — his current Cowboys base salary. Neither the Broncos nor the Texans have a quarterback set to count more than $2.2MM against the cap this year. Houston backup Brandon Weeden is signed to a veteran deal but is only set to count $1.6MM against the Texans' 2017 cap.
Photo courtesy of PFR on Instagram.
Follow @PFRumors