Redskins quarterback Kirk Cousins will sign his franchise tag soon, a source tells Ian Rapoport of NFL.com (on Twitter). Cousins, he adds, will be a "good soldier" and understands that he's unlikely to get dealt, despite his personal appeal to owner Dan Snyder for a trade.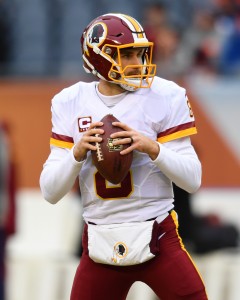 Once he signs, Cousins will be slated to play out the 2017 campaign while earning nearly $24MM. In theory, the two sides can work out an extension between now and July. Based on the way talks have gone between Cousins and the Redskins to date, that doesn't seem likely. Then again, with GM Scot McCloughan on the way out and the entire franchise in general disarray, it's anyone's guess as to who his reps would be negotiating with or what that lead decision maker would be inclined to do.
If Cousins doesn't ink a multiyear deal with the Redskins by midsummer or end up in another uniform via trade in the coming months, next season could go down as his last in Washington. Tagging an unsigned Cousins again next offseason would cost the Redskins upward of $34MM, an unpalatable total.
For the second straight year, then, Cousins is in line to play without any long-term security, though he's also on track to rake in $43MM-plus between last season and 2017 on account of the tag. Cousins has made his case for a big-money deal since breaking out during the 2015 campaign, his first as the Redskins' full-time starter. The 28-year-old started all of the Redskins' games over the past two seasons and helped the team to a 17-14-1 record, including an NFC East title in 2015. Along the way, Cousins combined for over 9,000 yards and 54 touchdowns against 23 interceptions.
Photo courtesy of USA Today Sports Images.
Follow @PFRumors