NFL owners have voted to approve the Raiders' proposed move to Las Vegas, Nevada. With at least 24 votes in favor of the relocation, the road has been paved for the Raiders to leave town and start anew in Sin City. The final tally was 31-1, according to ESPN.com's Adam Schefter (Twitter link), with the Dolphins as the only nay vote.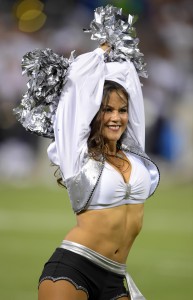 For many Bay Area fans, this is a crushing blow. The Oakland Raiders were born in 1960 as a member of the revolutionary American Football League. The city of Oakland lost its team in the early 1980s when it migrated to Los Angeles, but the Raiders returned for the 1995 NFL season. Now, more than 20 years later, the Raiders are leaving all over again and, this time, it's probably for good.
On Monday morning, Oakland mayor Libby Schaaf asked the NFL to hold off on voting, but that was a low-percentage shot in the dark likely designed to try and salvage Schaaf's standing with dejected Raiders fans. Owners reportedly still like the Bay Area as an NFL market, but they did not agree with Schaaf's assertion that Oakland has put forward a viable stadium solution. The Raiders have secured a record $750MM in public money for their new LV digs and that will be a major bargaining chip for the league in its future efforts to get stadiums built with taxpayer funds.
Even with the green light from NFL owners, it remains to be seen where the Raiders will play their games between now and when the $1.9 billion stadium is built. The Raiders will play in Oakland in 2017 and they have pledged to play there in 2018 as well. However, if the local fan reaction is too much for the Raiders to withstand, they may want to blow the popsicle stand early. UNLV's Sam Boyd Stadium could serve as a temporary host for the team, but it will probably need upgrades to meet league standards. If things go south this year in Oakland, those upgrades will have to be in place sooner rather than later.
Photo courtesy of USA Today Sports Images.
Follow @PFRumors