The NFL notified teams that Michigan's Jabrill Peppers tested positive for a diluted sample at the combine, league sources tell Adam Schefter of ESPN.com (on Twitter). Of course, this is awful timing for Peppers with the draft just days away. For what it's worth, his reps at CAA say that he was not trying to mask a positive test (Facebook link):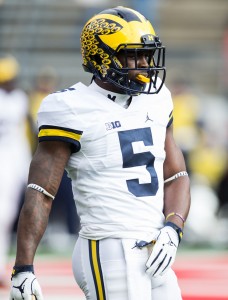 "Peppers went to the combine. He was sick after flying there from San Diego. He has a history of cramping. Peppers was being pumped with fluids, drinking 8-10 bottles of water before he went to bed, because he was the first guy to work out two days for the LBs and DBs. He had to go through that first day, come back on second day, and that was the fear. So Peppers was pounding water and under the weather. He never failed a drug test in his life, nor tested positive before for any substance."
Even before today's news, no one really knew what to make of the Michigan standout. His versatility, to some, is a great asset, but others see him as a tweener without a real position. Some say he's a linebacker, some view him as an NFL safety, and others believe he can play on offense. His draft stock seemed to be teetering more on second round than first round to begin with, so logic dictates that we probably won't hear his name called on Thursday night.
Peppers saw some time on offense last season and rushed 27 times for 167 yards, caught two passes, and scored three touchdowns. He also did well as a punt returner, posting a conference-leading 14.8-yard average on runbacks.
Photo courtesy of USA Today Sports Images.
Follow @PFRumors