The weight-oriented clauses in Eddie Lacy's contract have been discussed at great length, but the running back's one-year pact with the Seahawks includes many other bonuses tied to his performance. Thanks to Sheil Kapadia of ESPN.com, we now have a more complete breakdown of his deal.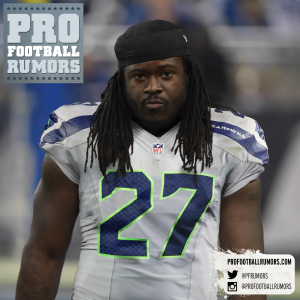 Lacy's deal includes roughly $2.865MM guaranteed with a max value of $5.55MM, meaning that there's $2.685MM available via incentives. Approximately $400K of that additional money is tied to Lacy's monthly weigh-ins, but he can make more if he delivers on the field. If he reaches certain yardage plateaus, he'll come closer to achieving the full potential value of the deal.
If Lacy runs for at least 800 yards, he'll cash in on an additional $250K. If he reaches 900 yards, he'll get $500K. For a 1,000-yard season, Lacy receives $750K. At 1,100 yards, the number jumps to $1MM. And if Lacy rushes for 1,200+ yards, he'll net an extra $1.3MM. These bonuses do not accumulate, so he can only collect at the highest plateau. For what it's worth, Lacy has twice eclipsed 1,100 yards but he has never quite reached 1,200. His last 1,100+ plus season game in 2014.
Lacy can also cash in by staying on the field. The 26-year-old will earn $62,500 for each week he's on the 46-man active roster, meaning that he'll get an extra $1MM if he plays a full 16-game season.
Follow @PFRumors