Although Adrian Peterson's two-year deal with the Saints has a maximum value of $15.25MM, the veteran running back will have to work to reach that total, as the majority of that figure can only be attained through incentives, as Nick Underhill of the Advocate details.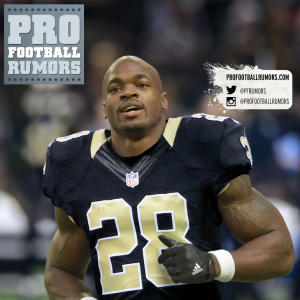 Incentives are linked to both Peterson's statistics and New Orleans' team performance, per Underhill. Peterson can earn $150K, $250K, $750K, or $1MM by rushing for 750, 1,000, 1,250, or 1,500 yards, respectively, in each of the next two seasons. He can bring in another $250K, $500K, or $750K if he scores six, eight, or 10 touchdowns, respectively, although Peterson will only unlock the $750K incentive if he also leads the NFL in rushing scores.
If Peterson rushes for 750 yards and the Saints earn a postseason berth, more incentives are available, according to Underhill. Making the playoffs alone in that scenario is worth $250K to Peterson. A conference championship appearance is worth $500K, while a Super Bowl victory would bring Peterson $1MM.
Peterson can also earn $400K in per-game roster bonuses, although that figure could increase based on his 2017 incentives. The amount of incentives Peterson earns in 2017 will be tacked on to his per-game bonus in 2018, per Underhill. Peterson can also take in $73,529 for each week he makes the Saints' 53-man roster.
Photo courtesy of Pro Football Rumors on Instagram.
Follow @PFRumors