It's a done deal. The Saints have signed Adrian Peterson, according to a team announcement. It's a two-year deal with a base value of $7MM, according to Josina Anderson of ESPN.com (via these Twitter links). Peterson gets $3.5MM guaranteed at signing for 2017 and a totally non-guaranteed $3.5MM for 2018. If he plays out the contract and reaches all of his incentives, the total value could get as high as $15.25MM.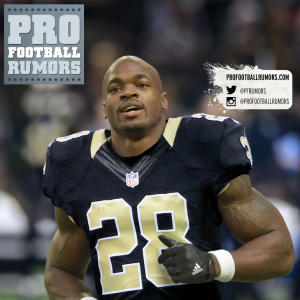 "I am excited to be joining the New Orleans Saints. I'm really looking forward to this opportunity," Peterson said in a statement to Anderson (Twitter link). "Most importantly, I chose this team because it just felt right within my spirit. Additionally, my wife and family added their confirmation with the same feelings. On offense, it goes without saying that the Saints are really solid behind Drew Brees. I feel like my skill set can make them even more dominant as a unit. They have a great offensive line, which is something that stood out to me as well. I could tell from talking to head coach Sean Payton over the last two weeks that he did his due diligence in evaluating how I could contribute. I also did a lot of homework on the defense as well. While I know that injuries have played a role in performance, I also see areas of potential with a lot of younger guys having the ability to step up. Lastly, it goes without saying that the Saints have an amazing fan base and I look forward to making them proud and creating everlasting memories."
The expectation now is that Peterson will serve as the main complement to top running back Mark Ingram. The 32-year-old missed the majority of the 2016 season, but he was highly productive in 2015 and he has been able to come back from devastating injuries in the past. After signing Peterson, the Saints can use their impressive stockpile of draft picks in the first three rounds to address other holes (primarily on defense) while leaving the running back position alone.
After the Vikings declined Peterson's option, he was linked to a whole host of contenders. However, it turned out that teams like the Seahawks, Patriots, Packers, and Giants only had tepid interest in him. Peterson has every reason to play with a chip on his shoulder this season and he should be extra motivated for New Orleans' season opener against the Vikings.
Photo courtesy of USA Today Sports Images.
Follow @PFRumors