Lucky Whitehead has been claimed by the Jets, as Ian Rapoport of NFL.com tweets. After a bizarre week, he'll do his best to try and forget about everything in a new city.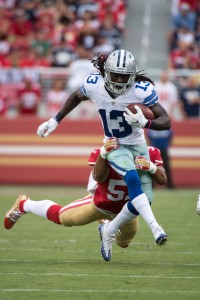 Whitehead, a return specialist, had a warrant issued for his arrest earlier this week in connection with a shoplifting charge and a missed arraignment. Trouble is, the cops had the wrong man. The alleged robber apparently gave the police Whitehead's date of birth and social security number, allowing him to skip town. Whitehead swore to the Cowboys that he had nothing to do with what he was being charged for, but the team waived him before allowing things to shake out.
On Wednesday morning, Whitehead's agent said that his client did not want to play for the Cowboys anymore after they effectively called him "a liar." He got his wish and he'll now go from one of the league's most talented squads to one of it's least talented teams.
"I can't speak for Lucky, we'd have to have a conversation about it because he loved being a Cowboy so much. I can't put into words — this dude loved it, loved it as much as I've ever had a player love an organization. Loved it," agent David Rich said. "This guy was arguably the most popular player on the team, which is interesting to have this happen to him, but I don't think so. . . . [Whitehead and coach Jason Garrett] basically sat across the table, eye to eye, man to man, and he said, 'I need you to believe me, coach.' And they said, 'We think you're a liar.'"
Between 2015 and 2016, Whitehead averaged 25.6 yards per kick return and 6.9 yards per punt return. Jets fans shouldn't expect to see him do much on offense, however. He had just nine receptions for 64 yards.
Whitehead's place on the Jets' 53-man roster is not a certainty, but he has a better chance of making the final cut than he did in Dallas.
Photo courtesy of USA Today Sports Images.
Follow @PFRumors