After the ESPN.com report presenting the bleak prognosis for a Kirk Cousins long-term deal by Monday's franchise tag deadline, Mark Jones of the Washington Post details some of the numbers believed to be involved in this process.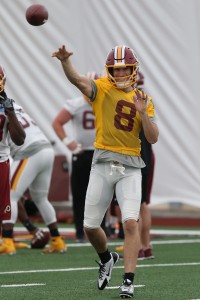 Jones notes an extension by Monday is unlikely, but the Redskins reporter adds the price changed over the past year — with the franchise tag's value having plenty to do with it. Now that Cousins is set to earn a guaranteed $23.94MM on a second tag, agent Mike McCartney set the starting point for a long-term Washington deal at $24MM annually. The Redskins were not ready to meet that demand. However, Redskins brass upped their offer considerably over the past year.
ESPN's John Keim reported Cousins received an initial proposal of a middling $12MM-per-year salary before seeing a $16MM-AAV offer come his way last year. With Cousins' 2016 tag giving him a $19.9MM salary, McCartney's demand last year hovered around $20MM per year. But Washington "bristled" at that demand last year, per Jones. Interestingly, the Redskins were ready to pay $20MM annually this year, submitting a five-year, $100MM offer to Cousins.
But with the tag price going up and the $25MM-per-year cost of Derek Carr's deal (and Matthew Stafford's expected pact anticipated to be north of that), $20MM AAV was no longer satisfactory, leading to the 2017 impasse.
Jones adds that for the Redskins to sign Cousins, a deal worth around $28MM per year — which would be the transition tag amount, should Washington go that route — would need to be committed. (No NFL player has ever signed for more than $25MM per year.) Guarantees at signing for said agreement would need to be $52-$58MM and additional guarantees of between $30-$35MM. Carr signed for $40MM guaranteed at signing, with $30MM more in total guarantees. The Redskins have not been willing to authorize this kind of a pact for Cousins.
Jones reports Cousins has told some he would like to test free agency to see what is out there for him. He will turn 30 by the time he would be set to play for the 2018 Redskins or another team, but with franchise-level passers never reaching that stage, Cousins would surely be in demand.
After Monday, Cousins' price should go up again because of the costs associated with another one-year rental in 2018. A franchise tag would cost more than $34MM in 2018, and the Lions and Falcons potentially set to raise the per-year salary bar for Stafford and Matt Ryan, respectively, quarterbacks will soon be in line to command more.
That said, Cousins lost two 1,000-yard receivers in Pierre Garcon and DeSean Jackson, and the architect of the offenses that enabled him to establish new Redskins single-season benchmarks is also gone. Without his wideouts or Sean McVay, Cousins may have tougher sledding in matching the kind of seasons he posted under the previous setup. But barring a massive regression, the quarterback's asking prices probably won't plummet considerably.
Photo courtesy of USA Today Sports Images.
Follow @PFRumors