The latest coming out of the Kirk Cousins/Redskins impasse isn't necessarily surprising based on the events of recent weeks, or the past two summers, for that matter. But ESPN's Adam Schefter added a wrinkle to the proceedings on Sunday.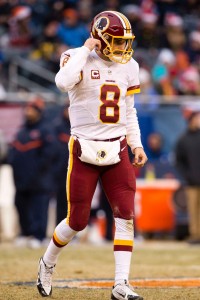 Schefter reports (on Twitter) Cousins is not expected to sign an extension with the Redskins by 3pm CT Monday. However, the sixth-year quarterback is open to doing so after this season.
Washington would again retain exclusive negotiating rights with the passer in between this season and the 2018 free agency period, and the recent improved tone of the talks may work in the team's favor. The discussions have taken on a more constructive nature, per Schefter, but the soon-to-be 29-year-old Cousins still wants to play this season on the tag. He stands to make $23.94MM if so. He will total just more than $44MM over the past two years based on this arrangement.
The development in Cousins' talks with Washington brass represents hope for a long-term union after one previously didn't exist, with ESPN.com's John Keim reporting (on Twitter) the vibe changed over the past few months. Cousins assumed he would be done in D.C. after 2017 as recently as this spring, but Keim reports a long-term agreement between the parties is in play come 2018.
Should the sides fail to strike a deal, one that Schefter notes isn't completely out of the question, Cousins will be the first quarterback in NFL history to play two consecutive seasons on the tag. A third tag would cost the franchise $34.478MM, with the lesser-used transition tag amount coming to $28.732MM. The latter figure could prompt another team with more cap space to prepare an offer sheet for Cousins designed to make it difficult for the Redskins to match, so the franchise tag would seem the likelier scenario if this goes all the way to next March.
Keim noted earlier this week Cousins' side is using the quarterback's potential free agency — and possible full guarantee north of $50MM — as leverage. The team isn't willing to, at this juncture, offer nearly that much, Keim reports. Cousins could be in position to easily surpass the $50MM guaranteed come March, Jason Cole of Bleacher Report tweets.
He adds that it's uncertain if the Redskins have submitted a better offer than their five-year, $100MM proposal that leaked earlier this offseason. Low-ball offers of $12MM and $16MM per year irritated the Cousins camp after the 2015 season, but it looks like the sides are closer together as of now. Of course, the Redskins have a murkier front office future as well, further complicating this situation.
Photo courtesy of USA Today Sports Images.
Follow @PFRumors