We've heard whispers over the past month that Panthers tight end Greg Olsen was seeking a new contract, and the three-time Pro Bowler later suggested that he could consider holding out. His agent, Drew Rosenhaus, discussed his client's "leverage" during his appearance on PFT Live with Mike Florio yesterday.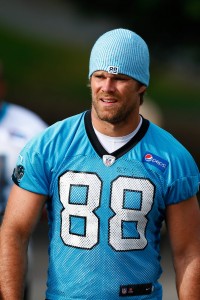 "It's still a one-sided negotiation," Rosenhaus said. "I'm really hopeful that the Panthers organization will take a hard look at it. Greg's a really unique player and a really unique person in the community. There are times when you would love for a team to look at a guy's contract and renegotiate. As a player, you don't want to exercise your leverage if you don't have to. We want to keep things very positive, and hopefully the team comes around and can get something worked out."
When asked outright if Olsen would hold out, Rosenhaus said "[t]hat's something that Greg and I would have to continue to talk about."
Back in 2015, Olsen signed a $22.5MM extension (with $12MM guaranteed) that would last through the 2018 season. Since that time, the tight end has averaged 78 catches, 1088 yards, and five touchdowns per year. The 32-year-old has a $10.35MM cap hit in 2017 and $9.75MM in 2018, although his "total cash earned" over the next two seasons is outside of the top-5 among the league's tight ends.
Back in June, Olsen was adamant that negotiations were not contentious between the two sides.
"This is not by any means a toxic environment or a situation where the two sides seem fighting or anything like that," he said. "Has nothing to do with that. It's just strictly, business should reflect productivity, in our opinion."
As our own Zach Links pointed out, the Panthers might be more willing to extend the tight end instead of reworking the final two years of his contract. This would allow the organization to have better control over his upcoming cap hits, and it'd also provide Olsen with some extra money (and future job security). On the flip side, the Panthers might just be content making one of their stars happy.
Photo courtesy of USA Today Sports Images.
Follow @PFRumors