Since the NFL's latest Collective Bargaining Agreement has made rookie contracts fairly regimented, negotiations between teams and draft picks have become smoother than ever, with few – if any – players expected to be unsigned by the time training camp gets underway. Still, ten players have yet to ink their rookie deals, including several first-rounders: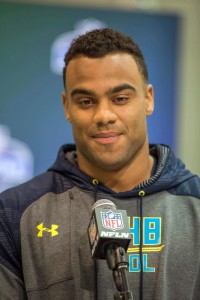 Although we don't know the inner workings of each negotiation, one factor that continues to play a role in contracts for first-round picks relates to offset language. Over the last several years, only a handful of players in each year have managed to avoid having offsets language written into their deals. In 2015, Marcus Mariota's camp haggled with the Titans until the two sides finally reached an accord with partial offset language, a compromise that was not consummated until late July. Last year, Joey Bosa's holdout dominated headlines until the linebacker inked his deal on August 29th. In most cases, a lack of offsets for a player simply relies on which team drafted him — clubs like the Rams and Jaguars traditionally haven't pushed to include offsets in contracts for their top picks, even in an era where most other teams around the league do.
Offset language relates to what happens to a player's salary if he's cut during the first four years of his career, while he's still playing on his rookie contract. For the top 15 to 20 picks in the draft, those four-year salaries will be fully guaranteed, even if a player is waived at some point during those four seasons. For example, if a player has $4MM in guaranteed money remaining on his contract and is cut, he'll still be owed that $4MM.
However, if a team has written offset language into the contract, that club can save some money if and when the player signs with a new team. For example, if that player who had $4MM in guaranteed money left on his contract signs with a new club on a $1MM deal, his old team would only be on the hook for $3MM, with the new team making up the difference. If there's no offset language on that first deal, the old team would continue to be on the hook for the full $4MM, and the player would simply earn an additional $1MM from his new club.
Although the negotiation of offset language might potentially delay a rookie's signing, the offsets rarely come into play, since few top picks flame out badly enough that they're released during their first four seasons. And even in those rare instances, if a player has performed poorly enough to be cut in his first few years, he likely won't sign a lucrative deal elsewhere, so offset language wouldn't help his old club recover more than perhaps the league minimum.
Note: This is a PFR Glossary entry, modified from an earlier post by PFR editor emeritus Luke Adams. Our glossary posts will explain specific rules relating to free agency, trades, or other aspects of the NFL's Collective Bargaining Agreement. Information from OverTheCap.com was used in the creation of this post. 
Follow @PFRumors