The NFL handed Cowboys star Ezekiel Elliott a six-game suspension stemming from domestic violence allegations earlier this month, but the league's director of investigations, Kia Roberts, recommended no ban for the running back, Clarence Hill of the Fort Worth Star-Telegram reports.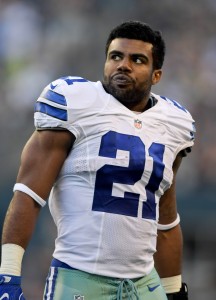 Roberts' decision came after interviewing Tiffany Thompson, Elliott's ex-girlfriend who accused him in June 2016 of committing physical violence against her on multiple occasions. Despite Roberts' key role in the investigation, her suggestion didn't make it into the NFL's final report and its suspension letter, notes Hill. Further, Roberts wasn't present during a commissioner Roger Goodell-led meeting that centered on potential disciplinary measures for Elliott, Hill adds.
Senior vice president of investigations Lisa Friel was among those in attendance with Goodell, and it was Friel who advised a six-game suspension to the commissioner, according to Hill. The fact that Goodell ultimately did hand down that penalty to Elliott left Cowboys owner Jerry Jones "furious," in part because he expected Elliott to elude punishment. A top official with the NFL informed Jones that the league would not discipline Elliott, Hill relays.
Elliott appealed his suspension this week during a hearing that spanned three days and over 25 hours, and his side testified that Friel banned Roberts from the aforementioned meeting, Hill reports. Roberts, who was also on hand, testified Tuesday that she was the only league employee to interview Thompson, according to Dan Graziano of ESPN.com. Roberts also confirmed that she would not have recommended discipline for Elliott had she been part of the decision-making committee – one that Hill reports consisted of former New Jersey attorney general Peter Harvey, Pro Football Hall of Famer Ken Houston, chief executive of the Women of Color Network Inc. Tonya Lovelace and former U.S. attorney and ex-chair of the Securities and Exchange Commission Mary Jo White. Friel provided testimony on Wednesday and corroborated that of Roberts, Graziano writes.
Hill contends the hearing went well for Elliott's camp, noting that the league lacks solid proof that he abused Thompson. Both that and the NFL's unwillingness to listen to Roberts would not bode well for the league in federal court, Hill posits. Elliott could file a lawsuit against the league if hearing officer Harold Henderson doesn't overturn or reduce the suspension, and Graziano suggests that the NFLPA is ready to fight in court if necessary. Henderson is reportedly "under pressure" to make a decision by Monday.
Photo courtesy of USA Today Sports Images.
Follow @PFRumors