Roger Goodell isn't going anywhere. The NFL is set to extend its commissioner through the 2024 season, according to Daniel Kaplan of Sports Business Journal (on Twitter). Meanwhile, Adam Schefter of ESPN.com (on Twitter) hears that there are still some issues for the two sides to iron out before a deal formally gets signed.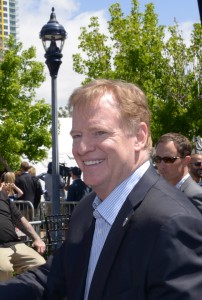 [RELATED: DeMaurice Smith Expects 2021 Work Stoppage]
Goodell's current contract runs through 2019, which put the league in an awkward spot since the NFL's current collective bargaining agreement is set to expire in early 2021. Recently, NFLPA chief DeMaurice Smith characterized a strike or lockout as a "virtual certainty" after the 2020 season, so it's imperative for the league to have stability in leadership. If Goodell serves through 2029, that will mark 19 years in power.
It hasn't always been a smooth ride for Goodell and the Ray Rice scandal of 2014 nearly cost him his job. Still, the league has grown tremendously since he came to power in 2006 and Goodell has been well compensated for his time.
For the 2012 season, Goodell raked in $44.2MM. He took some pay cuts after that, earning $35MM in 2013, $34.1MM in 2014, and $32MM in 2015. We don't know how much Goodell earned in 2016 or how much he'll earn in the coming season, since the NFL dropped its tax-exempt status in 2015. However, it's possible that Goodell could make a little less per year on his extension.
Even in the ~$30MM range, Goodell is still compensated better than any player in the NFL.
Photo courtesy of USA Today Sports Images.
Follow @PFRumors