Prior to the 49ers snagging Jimmy Garoppolo for a second-round pick that's likely to fall at the top of Day 2, the Browns were the team most connected with the former Patriots backup this offseason. And Hue Jackson may have been a key driver behind that Garoppolo-to-Cleveland buzz.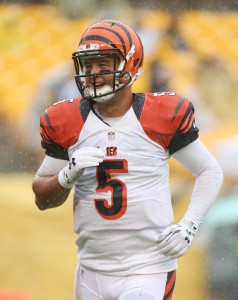 The second-year Browns coach "pushed hard" this offseason for the team to trade for Garoppolo or former Bengals charge A.J. McCarron, Mary Kay Cabot of cleveland.com reports. Jackson felt Garoppolo could be a big part of a turnaround from Cleveland's 1-15 season, Cabot reports, and made Tom Brady's then-backup his primary offseason target.
Cabot adds the Patriots would have traded Garoppolo to the Browns for "the right offer," which the longtime Browns reporter notes would have had to include at least one first-round pick. The Browns had two of those going into the draft and ended up with three first-round selections while also carrying multiple second-round picks in April after making the Brock Osweiler trade.
Ian Rapoport of NFL.com reported the Browns offered a second-round pick for Garoppolo, with Cabot adding the team did not go further on Day 2 of this draft to make the necessary offer to the Pats. Browns executive VP Sashi Brown said going into the draft the team was not interested in trading for a veteran quarterback.
Kyle Shanahan and Garoppolo spent time together when the current 49ers coach worked as the Browns' OC in 2014, and Shanahan told cleveland.com at this year's Super Bowl he had Garoppolo ranked high among the draftable 2014 passers during his one-year stay in northeast Ohio. Shanahan did not want Johnny Manziel, whom the Browns drafted, nor did he prefer Teddy Bridgewater. However, the short-term Browns play-caller did like Derek Carr and Tom Savage, per Cabot.
When the Patriots and Browns could not agree on terms for Garoppolo, Jackson pivoted to McCarron, Cabot reports. But Jackson viewed the current Bengals backup, whom he coached for two seasons in Cincinnati, as a stopgap until the Browns could land their long-term solution.
Cabot wonders if McCarron would be in play by today's 3pm CT deadline but reports it would have likely taken at least two second-round picks to pry him from the Bengals this offseason. McCarron is under contract through the 2018 season.
Photo courtesy of USA Today Sports Images.
Follow @PFRumors