As of this writing, wide receiver Calvin Johnson is still retired. But, if he decided to play again, it sounds like the Lions would be open to trading his rights between now and Tuesday's deadline. If Megatron can be coaxed out of retirement, the Jaguars would have interest in acquiring him, ESPN.com's Chris Mortensen (video link) hears. The "speculation" is that the Eagles would also be among those to look into acquiring Johnson.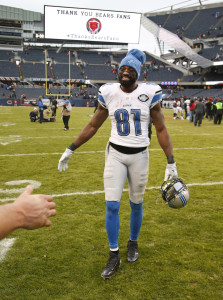 Even if Johnson does have the itch to play again, there would be a number of hurdles for all parties to work through. The wide receiver's contract runs through 2019 and includes a cap number $21MM for this year. He'll also have to pass a physical on the first try and that's not a slam dunk given how long he has been away from the game.
Any team getting into bed with Megatron will also want to know that he is firmly committed to playing football. He has been asked about a potential return at various points but has denied any interest.
"I'm not coming back, man," Johnson said back in December. "Look, man. I got stuff that's going to hurt for the rest of my life. I got a finger that's literally bone-on-bone. This bad boy, it gets smaller. The more and more I do, it grinds bone-on-bone. Literally from last year, I went this year to get another X-Ray and this is after I retired, I knew it was messed up but I didn't know to what degree because it was hurt."
The 7-1 Eagles could use a pass catcher like Johnson, but they might want to put their resources towards acquiring a left tackle instead. The 4-3 Jaguars, meanwhile, have already taken on a sizable contract by acquiring former Bills defensive tackle Marcell Dareus.
Photo courtesy of USA Today Sports Images.
Follow @PFRumors