The full assortment of Giants decision-makers only attended the Steve Wilks HC interview earlier this week, with co-owner Steve Tisch joining Big Blue brass in meeting with the Panthers' DC. But Wilks may have to concentrate on other options going forward.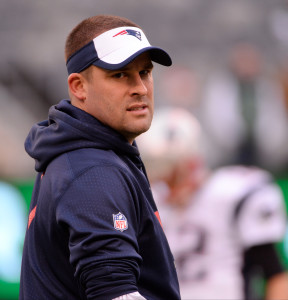 The Giants are believed to be down to three finalists for their top coaching job: Vikings OC Pat Shurmur and Patriots coordinators Matt Patricia and Josh McDaniels. Wilks did not make the cut after the first round of meetings, Paul Schwartz of the New York Post reports.
Each of these coaches are preparing for divisional-round games, so the Giants look to be willing to wait to make their hire. Patricia is said to prefer the Giants to the Lions, who were once reported to have zeroed in on Patricia as the favorite to land their job. McDaniels might be a better bet to become the next Colts coach as well; he interviewed for both Indianapolis and New York's HC vacancies. The Cardinals are also in on Shurmur.
An unofficial agreement could be reached between the Giants and one of these candidates, a la the 49ers' process with Kyle Shanahan, but New York must wait until the Vikings or Patriots is eliminated to make an official hire.
Schwartz notes the Giants believe McDaniels would work well with their next quarterback, or with Eli Manning, and the team may view Shurmur as the most well-rounded candidate. The New York-based reporter adds the Giants are also concerned McDaniels might still not be ready, considering what happened the first time he was a head coach, and might not be comfortable with a strong GM presence. The Giants are also unsure, per Schwartz, Patricia brings the "CEO-type" leadership Dave Gettleman covets in an HC.
Photo courtesy of USA Today Sports Images.
Follow @PFRumors