Although he didn't appear in the NFL in 2017 after being released by the Bears in September, veteran wide receiver Victor Cruz doesn't intend to retire, according to Ryan Dunleavy of NJ.com.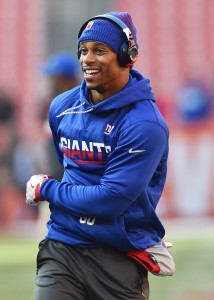 "I'm going to give it one more shot and see what's out there, see what's in the market for me and if I can get into anybody's camp," said Cruz. "If not, we'll see where it goes after that and take the necessary steps."
Cruz, 31, inked a one-year, $2MM deal with Chicago last offseason that contained a $500K signing bonus, but that guarantee didn't prevent the Bears from cutting the former undrafted free agent just prior to the start of the regular season. Cruz later lobbied the Giants — who had recently lost Odell Beckham Jr., Brandon Marshall, Dwayne Harris, and Sterling Shepard to injury — to re-sign him, but New York never expressed any interest in a reunion.
"Naturally, I was surprised [that the Giants didn't call], being that I knew the offense and was just there a few months ago at that point," Cruz said. "I was a little bit surprised just as a normal human being just as everybody else I came across was surprised as they (said) to me everywhere I go."
Cruz, of course, was highly successful during his run with the G-Men, and averaged 80 receptions 1,209 yards, and eight touchdowns per season from 2011-13. Since that time, however, injuries have made Cruz a shell of himself, and he's failed to top 40 receptions or 600 yards over the past four years.
Follow @PFRumors