On this date in 2017, Victor Cruz joined the Bears on a one-year deal. With that, the longtime Giants wide receiver was set to start his next chapter. Unfortunately, things didn't pan out as expected.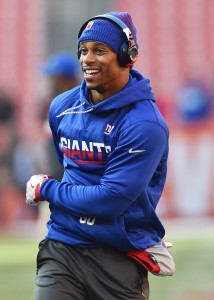 Cruz was a logical fit for the Bears after they lost Alshon Jeffery in free agency. With their WR1 gone, they were left with Cameron Meredith, the injury-prone Kevin White, veteran Kendall Wright, Daniel Braverman, and Markus Wheaton as their top targets. Cruz was not a one-for-one replacement for Jeffery at this stage of his career, but there was a clear path to the 53-man roster. Then, in the preseason, he suffered a knee injury that took him out of the equation.
From 2011 through 2013, Cruz averaged 80 receptions, 1,209 yards, and eight end zone salsas per season for the Giants. Cruz, a former undrafted free agent out of UMass, came out of nowhere and captivated the NFL . Later, the Giants locked Cruz down with a five-year extension worth up to $43MM. Cruz could have gambled by staying on track for free agency after the 2013 season. With hindsight, Cruz was pretty happy about his decision, which yielded nearly $16MM in guaranteed cash.
Things started to come apart in 2014, thanks to a torn patellar tendon, followed by a calf injury. By '18, Cruz was still just 31, but also years removed from live action. So, after unsuccessfully lobbying the Giants to bring him back, Cruz called it a career. His final NFL contract came from the Bears, but he left the game having only played for the G-Men.