When it was reported late last year that Texans tight end C.J. Fiedorowicz was contemplating retirement, his agent downplayed such talk. Fiedorowicz's latest comments indicate that retirement is very much on the table.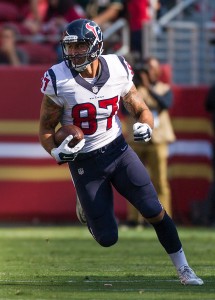 "A dude knocked me out," Fiedorowicz told Joe Stevenson of the Northwest Herald. "After eight weeks, when I came back, it was constantly on my mind. I wasn't always able to play loose and free. It was in my head. Anytime that's on your mind while you're playing an NFL football game, you're in trouble. You can't play timid. Guys are trying to take your head off, you know?"
Fiedorowicz, 27 in October, is concerned about his long-term well being after suffering three concussions during the 2017 campaign. He'd be walking away from the final two years of his three-year, $21.5MM contract, but that isn't a major consideration for him.
"I have a backup plan," he said. "I've realized money is not happiness. Money definitely gives you freedom, but I've played four years. I've accomplished things I wanted to accomplish. It's more about making my town happy, making my family happy and being able to enjoy the rest of my life."
Fiedorowicz 's $5MM base salary for 2018 is guaranteed, but that payout will be reduced to $2.8MM if he's unable to play due to concussions. Texans coach Bill O'Brien had been optimistic about his return, but it sounds like the Texans will have to seek out a new tight end this offseason.
Photo courtesy of USA Today Sports Images.
Follow @PFRumors